A new city rises in the West Bank
World Architecture News - Nick Myall - Rawabi is the largest private sector project in Palestinian history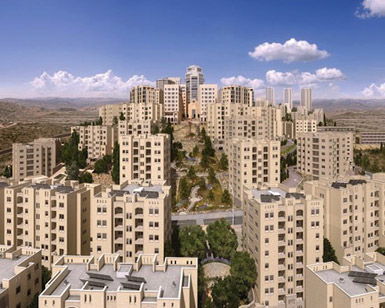 Rawabi is the first new Palestinian city to be built in the Israeli-occupied West Bank. The privately financed city project, led by a multi-disciplinary team from AECOM could point towards a possible future path for the Palestinian people.
It is the idea of the American-Palestinian multi-millionaire developer Bashar Masri, who is building homes for 25,000 Palestinians, however it has to be viewed as an amazing achievement that the project has got this far in an occupied region.
At present there is no running water - and there are fears that the project will stagnate due to Israeli-Palestinian politics. The joint Israeli-Palestinian water supply committee has to sign off the water supply but it hasn't met for years. However the Palestinians think that Israel want to use Rawabi as a bargaining chip. They claim that they want to use it to secure water supplies for Israeli settlements.
Former UK Prime Minister Tony Blair is also backing the project, while Bahar Masri admits the project is in financial trouble but does not regret embarking on it for a single moment.
The Rawabi master plan and Preliminary Design was developed by a multi-disciplinary team from AECOM led by Raphael Samach, in cooperation with local experts from Birzeit and An-Najah National universities and the technical teams of Bayti. It has been approved by the Palestinian Authority and the Palestinian Higher Planning Council.
To view original article, Click Here.