The West Bank's newest city is upscale to lure affluent Palestinians
USA Today - Kate Shuttleworth - RAWABI, West Bank — Poised on a hill, new apartment buildings with bleached stone gleam in the sun in a series of cul-de-sacs lined by freshly planted trees, forming the newest city to open in the West Bank. It doesn't adorn the Star of David like neighboring Jewish settlements below, but rather the Palestinian flag.
Keys were handed this month to owners of 640 units in this upscale city that eventually will house 40,000 upper-middle-class Palestinians. Financed by a Qatari company and Palestinian-American real estate magnate Bashar Masri, the project will cost $1.2 billion when the remaining four-fifths is completed.
The ostentatious development represents a watershed moment in the West Bank. This first modern town built outside historic cities in the territory provides a blueprint for future developments and shows the world that Palestinians and Israelis can work together, supporters say.
"It is very important that Israelis feel what the Palestinians are capable of achieving and building," said Shaul Arieli, a former Israeli government official and a member of the Council for Peace and Security, a group of Israeli security veterans. Arieli said construction used materials from 67 Israeli companies.
Masri said he launched this planned West Bank city to prove that Palestinians are capable of building a nation and to generate up to 10,000 construction jobs for Palestinians.
Just a 30-minute drive from Ramallah, Rawabi will eventually have six restaurants, five banks, three schools, a medical center, an upmarket urban center and more than 2,000 trees.

Nearing completion is a Roman-style amphitheater that will seat 15,000 people. It is surrounded by murals of Elvis Presley, Marilyn Monroe, Michael Jackson and other iconic American celebrities to give it the feel of a cosmopolitan city, however out of place those images are in this arid landscape.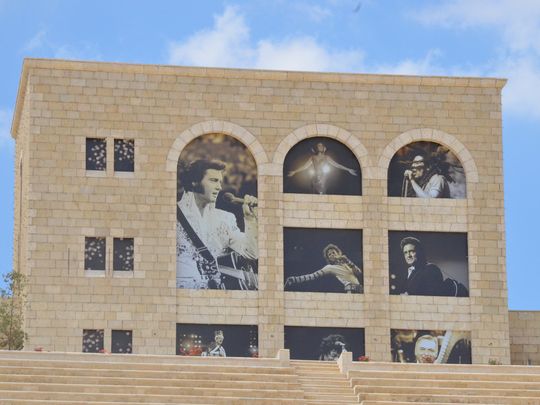 Murals of singers and celebrities line the back wall of a Roman-style amphitheater. It's set to cater audiences of up to 15,000. It's part of a planned Palestinian city that opened its doors to the first residents and will eventually house up to 40,000
Among the first residents to move in are Eli Yacoub, 45, a philosophy professor at Al Quds University, and his wife, Suheir, 41, a psychology professor at the university. They will live in a 1,700-square-foot, three-bedroom, ground-floor unit with an adjoining garden and view of a mosque that is under construction.
"The majority of the families here are middle class, and that's what's really good about this city," Yacoub said. "I think having this middle-class project is one of the best things Rawabi has achieved."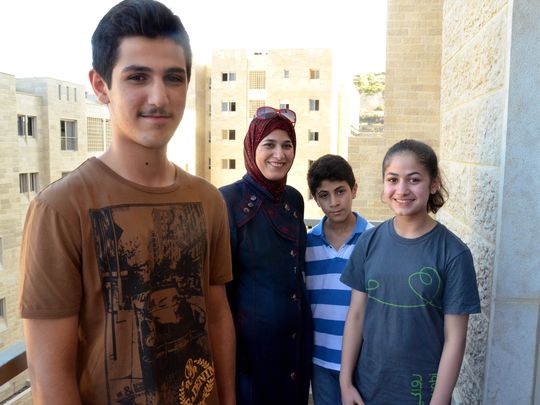 Suheir Yacoub and her three children stand on the balcony of their new apartment in the first planned Palestinian housing development in the West Bank - Rawabi. The family move from their house in nearby Ramallah to the new housing development which will eventually be home to 40,000 Palestinians
Entry-level, one-bedroom units start at $70,000, and top-of-the-line dwellings have sold for $220,000 — prices that make the project's affluence stand out in a region where 26% of Palestinians are unemployed and the per capita gross domestic product is barely $1,700 a year, according to the Palestinian Central Bureau of Statistics.
It also represents a triumph over adversity stemming from major holdups by both the Israeli government and Palestinian Authority that rules the West Bank.
In 2008 the Palestinian Authority promised to pay for infrastructure such as schools, health care facilities, roads, wastewater treatment plants, a reservoir, post offices and a police station. But it has not followed through, which added $150 million to the developers' costs and forced them to raise apartment prices by 15%.

"The PA have been verbally extremely supportive. They have been extremely happy with the project at large, but this support hasn't materialized into any kind of financial contribution," said Amir Dajani, manager of Bayt Real Estate Investment in Qatar, Masri's partner in the project.
"We do understand they're bankrupt and cash-strapped, but we know strategically they should allocate some resources to Rawabi," Masri told USA TODAY. "They are the tax collectors, and it's their responsibility to serve the people with the little resources they do have. Their financial support amounts to zero. Clearly it has been a disappointment."
Israel also created problems by delaying access to water and roads, project supporters said.
"It showcased the difficulties Israeli authorities impose on Palestinian projects," said Palestinian political analyst Ghassan Khatib. "In Rawabi, water and access roads were delayed by up to two years. The exceptional thing is the persistence of those heading the project and the fact that Rawabi is so prestigious that any obstacles Israel placed on it were so obvious and embarrassing."
Israel finally agreed to allow Rawabi to be connected to its water network in March. Until then, Masri said, the project was losing money fast. The cost of transporting water in to mix cement was soaring, and hundreds of buyers pulled out. He estimated losses at around $65 million.
"The number of buyers has picked up again since we resolved the water problems," he said. Other buyers remained loyal to the project during the delays, he added. "Palestinian people have nothing to live for except hope. ... A lot of people put their hopes and beliefs in us."
Said Ayyad, a journalism professor at Bethlehem University who bought a three-bedroom unit last year for $115,000, said his faith in the project was restored when the water was finally connected.
"I bought in Rawabi because it's part of the Palestinian dream of a developed city with high living standards. I resolved to never let go of that dream, and I waited patiently until the water arrived," Ayyad explained.
Yacoub said he doesn't mind living next to a Jewish settlement. "Ultimately I hope we all can live in peace," he said.
Masri admitted that Rawabi's look was inspired by Jewish settlements and Israeli towns, as well as other international urban centers.
"Maybe it's a compliment to say Rawabi looks like an Israeli town or settlement," he said. "We are starting from the top of the hill. It's our right to be on top of this hill rather than leave it to the settlers. We are grand people and we deserve a grand place."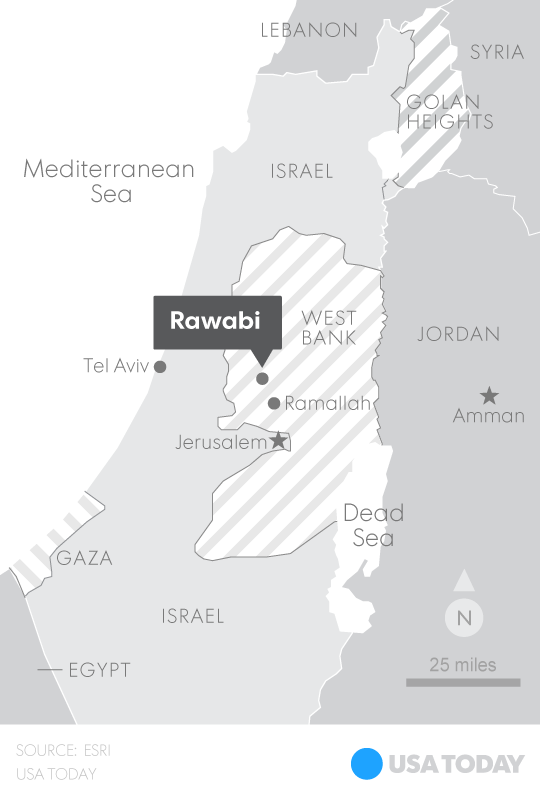 To view original article, Click Here.