Planned Palestinian city welcomes its first 'Rawabians'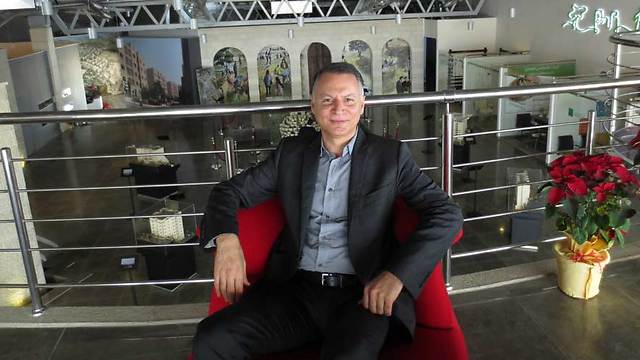 Bashar al-Masri: founder and chairman of Massar International.
Gulf Times - Felice Friedson - Hanadi Abu Zahra turns on the tap in her kitchen and is elated to see the water flowing - something most new residents would take for granted even if they had not just moved into a brand new state-of-the-art apartment in a luxury building located in a development that has been the recipient of massive world-wide attention.
But whether or not water would be there when the tap was turned on became symbolic of the challenges that had to be overcome in order for Rawabi, the first Palestinian planned city, to transform from one man's vision to the fulfilment of 40,000 aspirations.
In August, Abu Zahra became one of the first Rawabians – residents of the long and anxiously awaited city located about 5.6 miles north of Ramallah, the Palestinian administrative capital, and 15 miles north of Jerusalem.
On a grand entry road you are met by the swaying of the Rawabi, Palestinian and Qatari flags saluting a bold new city of neatly chiselled gold, grey and white stones of varying sizes emerging before your eyes.
They are laid meticulously by hundreds of workers who hail from all over - Nablus, Qalqilya, Jenin. Some workers are hanging from scaffolding placing final touches on the third and fourth neighbourhoods being readied to receive their occupants, or preparing phase one of the town centre or Abraham's Mosque.
Rawabi is a project of Bayti Investments which was developed through Massar International and Qatar Diyar.
Bashar al-Masri, founder and chairman of Massar International, a chemical engineer-turned- builder and real estate mogul, is the man behind the vision. Asked by The Media Line whether the city now receiving its first residents compares favourably with the dream, he answers that, "It's surprisingly very close. I would say by mid-next year we will be right on because some components of the project lag behind for different reasons, but they're on track."
The "track" will, in about six years' time, run into a formidable city which continues the Rawabi commitment to clean living where rooftop eyesores such as water tanks and satellite dishes are absent and cables, including fibre optics and Internet, are buried beneath the ground.
The Middle East's largest amphitheatre (15,000 seats) will be the venue for world-renowned artists while visitors to a business hub will stay in a five-star hotel adjoining a mall adorned with the world's leading logos..
A business centre due to open in mid-2016 will include a business incubator established so that Palestinian businesses can create permanent sustainable jobs of which 1,500 are needed to launch the centre. Masri is hoping both local and international companies will step in to create those jobs.
The "different reasons" Masri says are causing some components to lag behind are in most cases manifestations of the Israeli-Palestinian conflict - the endless struggle to obtain Israel's permission to build a road sufficient to support the volume of traffic associated with a city of 6,000 housing units; and the allocation of a water supply appropriate to a city of that size – threatened to scuttle the entire project.
Rawabi, which means "hills," sits on 6.3mn square metre municipal boundary, 1mn square metres of which is being built up in the first phase: 639 units ready for immediate occupancy and 500 more ready for move-in early next year. Apartment prices began at about $65,000 - although those are sold out – and peak at about $180,000. The most sought-after units go for between $90,000 and $125,000.
Special insulation material keep homes warm in winter and cool in summer with 30% energy savings to each family. Rain water is collected through a harvesting technique, cleaning it for re-usage. Rawabi also claims its own waste water treatment plant which will service the city and adjacent towns.
The neighbourhoods names are given Canaanite names. Six thousand housing units across 23 neighbourhoods will be built in all, the first two which are the largest and are completed and ready and servicing about 300 units each. The buildings of the third and fourth neighbourhoods are built, but remain just skeletons. The fifth neighborhood, currently an empty excavated lot, will take six months to a year to complete.
Nihad Kamal, an investment manager for Siraj, a private fund, moved his family into the sixth floor of the sixth building – one of the first to take up residency.
Asked why, he told The Media Line that, "First of all, it's a brand new city. There's a big difference between a new car and used car. This makes a big difference in the future and in infrastructure. There will be no water tanks or satellite dishes on rooftops. Most important to me is being away from city life. We are like a village. A few families have moved in already and I know later on life in Rawabi will be busy."
The Kamal family had been living in Al-Masyoun, an upscale neighbourhood.
Asked if he's a pioneer, Kamal replied that, "I wish so. I took a calculated risk to come earlier with my family so I'd say I am," but added, "high risks yield high returns. People coming now and buying at the second phase are paying higher prices. This was one of my calculations."
Hanadi Abu Zahra, a chemistry teacher; her husband, Bassem, a physician; and their three children Baraa, Bahaa and Beesan ranging in age from 4 to 10, are also moving into the first building. The Abu Zahras learned of Rawabi through social media and bought a 195-square metre apartment. They are excited about this modern and comfortable city, but are still concerned that infrastructure needs to be in place and that the school will be up and running when they take up full-time occupancy in time for the following school year.
Construction of Rawabi's three schools was delayed when the economic situation became critical. At the present time, the city runs buses between Rawabi and schools in Ramallah – almost one hour of daily travel time that Masri says is "not needed". While the schools are being built, school operators are being vetted so that the educational system is in full gear by next year.
Amir Dajani, deputy managing director of Rawabi, told The Media Line that plans are underway to use linkages with Harvard, Cornell and Tufts Universities to develop partnership programmes and utilise their classrooms in the evening for continuing education and for courses for working mothers via satellite.
Manal Zariq is not only a mother of three who will be moving in next month, she is also Massar International's general manager and a member of Rawabi's Municipal Council. Zariq told The Media Line that it's important for her to "try the systems to make sure that what we're planning for is working well". She want to show her fellow Rawabians that "when we build it, it's even at the standards for the builder to live there."
By the time the 6,000 units are occupied, the project's cost will have topped $1.2bn – a considerable increase above the original projected cost of $875mn when the project began, as much as $200mn of which resulted from what Masri calls "political costs".
Because a small portion of Rawabi protrudes into what was designated "Area C" by the 1993 Oslo Accords (meaning full Israeli administrative and security control), Israel had to sign-off on the issues of building a road and allocating water. Efforts to get those permissions were so intense that the redirection of corporate strength was to the exclusion of other important projects including construction of schools, a medical centre...and Masri's own penthouse.
Currently there are no shops, no small grocers, but a doctor and clinic are available since there have been hundreds of workers on site involved in building Rawabi since the project began in 2008. Retail outlets are scheduled to open toward the end of the year, Dajani, told The Media Line.
Masri is equally proud of what he sees as Rawbi's payback to the Palestinian society, citing many examples of jobs and businesses that have been spawned by his massive project. He told The Media Line that the construction industry was "enhanced tremendously".
"Since we started Rawabi, a minimum of five neighbourhood projects, the largest neighbourhood project much smaller than Rawabi, but still large, were launched, so this already encourages others to launch big projects. We know there are others planning a city now and they are waiting and looking at Rawabi to see the success."
When the project started, 95% of the necessary goods had to be imported. "Today, we probably import 50% of the goods. We worked with the manufacturers. We worked with the welders to create the steel work. We worked with the carpenters to do the kitchens. We were importing all the kitchens. Now we're doing all the kitchens locally. We were importing the doors. Now we're doing them locally. And so on and so forth it is definitely helping the economy much more than Rawabi," said Masri.
Rawabi has been a study in unintended consequences since the project began. Early on, when it was clear that the small existing road could not support the necessary flow of construction vehicles, Masri answered the challenge by creating a full-scale quarry and stone-making factory on-site. As well, the special mortgage packages the banks created for Rawabi buyers in conjunction with Massar introduced Palestinians to a new option for financing homes.
"We were the first to incorporate female industrial engineers to a construction site in Palestine. One third of our engineers are women," said Dajani.
Illustrating his point, Nour Sadi's green hard hat sits atop her hijab and her large toothy smile shines through as she talks of the many women engineers involved in the electricity, building and architecture of the new city. Nour is a resident of Jenin and studied in Al Najah University.
Masri is candid about nearly losing the project altogether when funding ran out and doesn't regret that the project will not make money. He tells of the company's leadership scrambling to raise $100mn from personal and business sources to save Rawabi. Above all, he explained to The Media Line, was the drive to "set a precedent for the other projects. We want others to be encouraged to do Rawabi 2 and Rawabi 3 and Rawabi 4 and Rawabi 5. And guess what? The country needs a minimum of five projects like Rawabi."
Sitting together on the living room couch in their flat, the Kamal family reflected on their new life in Rawabi. Twenty-year old Tuqa, a student at nearby Birzeit University, appreciates the closeness of the campus to her new home so that her friends and classmates can come visit. Eight-year old Huda says she loves laying down in the garden.
"When you have a busy city that's organised, it's much nicer than being in a busy city that's unorganised," said Nihad reflecting on the excitement of the move and the inevitable growth of the city.
Meanwhile, sounds of jack hammers abound and sandy dust looms everywhere; but the water is flowing and the lights are on in Rawabi.
To view original article, Click Here.