The golden Palestinian city overlooking Tel Aviv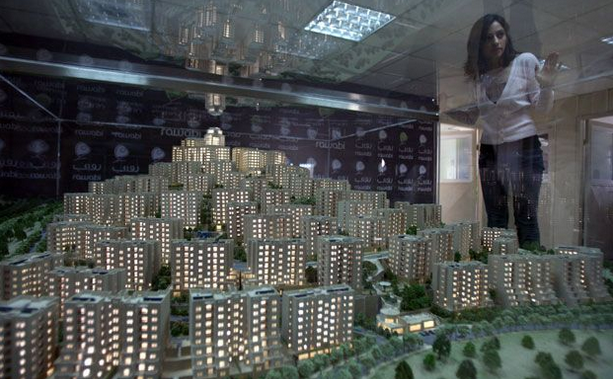 Model of Rawabi
I 24 News - Merav Savir - Residents have started moving into Rawabi, the first planned Palestinian town in the West Bank
Khaled Al-Amleh, his wife and two infant sons moved into a new apartment several weeks ago. Nothing unusual in itself, except that the apartment is in a brand new Palestinian town, built from scratch in the Israeli controlled part of the West Bank, with a Jewish settlement on one side.
Its name describes its location – Rawabi, Arabic for "hills" – a 15-minute drive from the Palestinian capital of Ramallah. On a clear day one can see all the way to Tel Aviv and the Mediterranean beyond.
Al-Amleh is one of the pioneering residents. Only several dozen families have moved in, so far, which he says sometimes makes the city feel like a ghost town. Outside their apartment, construction continues. Inside, it's home.
"When I come, and open my door, I feel comfortable in my home, the kids can play in front of my door, everything is good. Even with the construction work beside my home. I feel comfortable," says Al-Amleh, a civil engineer and urban planner. He has good reason to feel comfortable - with three bedrooms, three bathrooms, two reception rooms and a balcony, all built to top standards and at prices 20-25% lower than in Ramallah.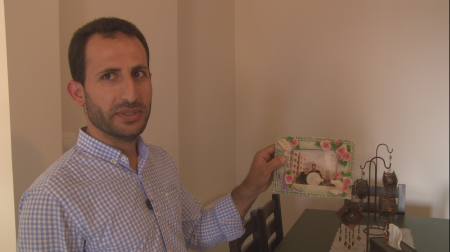 Khaled Al Nahle Khaled
So far some 650 Palestinian families have bought apartments in Rawabi – in sizes ranging from 90 to 200 square meters, priced at $62,000 to $220,000. It is planned that Rawabi will house 6,000 families once all 23 neighborhoods are completed within five to seven years.
"It's open to any Palestinian that wants to buy in Palestine. We do not target any foreigners because this is about Palestinian people," Bashar Masri, chairman of Massar International and the founder of Rawabi City, tells i24news. "They've been looking for something advanced, sophisticated, they've been looking to upgrade their standard of living. They deserve better and they are getting better."
Rawabi is built from the land on which it's located, its yellow, white and grey stones all excavated from a quarry nearby. The color scheme has earned it the nickname "golden Palestine".
Once completed, it will have its own school system, a medical center, a mosque and a church, a city center with movie theaters, a pool, a spa, a hotel, a convention center – and even a Roman-style amphitheater, already mostly complete.
New Palestinian town of Rawabi
"We wanted to do a project with a large economic impact for Palestine, we wanted to prove to ourselves first that we can build a Palestinian state," says Masri, who funded the $1.2 billion project with seed money from Massar International and a Qatari investor, Qatar EDR. "This is one small component and we wanted to show the world our ability to build. We are about construction, not destruction."
But it has been anything but smooth sailing. The visionary project was announced in 2008, excavation started in 2010, construction in 2011. The wait for Israeli permission to connect a water pipeline to the city – an issue held issue by political tensions between Israel and the Palestinian Authority - caused a delay of more than a year and cost Masri millions in lost revenue.
A planned industrial park has encountered objections from the Jewish settlement of Ateret. And not all Palestinians are pleased with Masri's close ties with Israeli authorities, viewing it as cooperation with an occupying enemy.
But the Nablus-born Masri, 54, who as a youth growing up in the West Bank threw stones at Israeli patrols and was often arrested before going abroad to study and make his fortune, has a different perspective. "When there is occupation and Israel is the occupier, we depend a lot on Israel," Masri told the Al-Monitor website in a 2014 interview.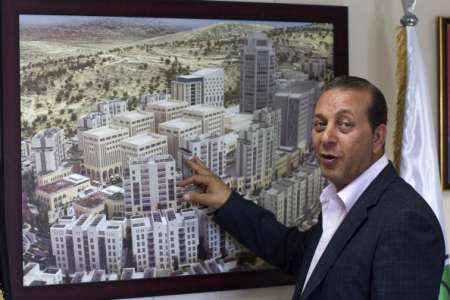 Mayor of Rawabi
Al-Amleh is also hopeful. "This is the first time I've faced a huge construction being decided in Palestinian territories… and it's a good example for Palestinians who have good thinking, have good ambitions for the future."
One of the city founders' ambitions is to add another hue to the golden color scheme – green for being environmentally friendly. It also plans to be high-tech friendly, with underground fiber optics everywhere and outreach to international companies
."I believe Rawabi will be like any other city in Palestine, it has no ending, it will continue growing and developing for tens of years," Masri sums up.
To view original article, Click Here.