RAWABI: TESTING THE POWER OF PLANNED CITIES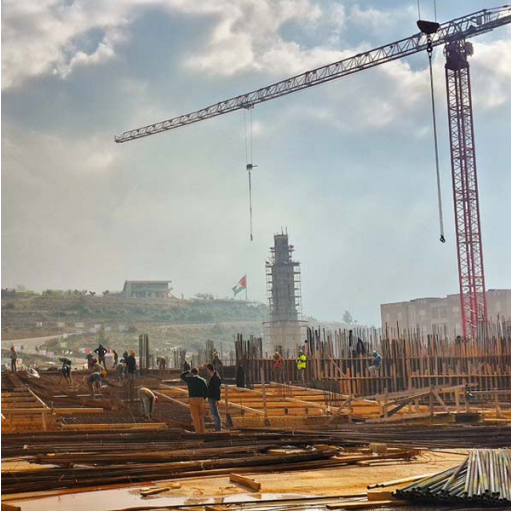 Rawabi's developers envision an affordable economic and cultural hub just a few miles north of Ramallah
Global Invasion - Emma Fredieu - Rawabi, "hills" in Arabic, is the first planned Palestinian city and, once fully up and running, will include education and health services, cultural centers, public parks, and up to 10,000 jobs for an estimated 40,000 residents.
But, a recently-resolved dispute with Israeli officials over connecting the new city to the West Bank's water supply system, as well as construction delays, and instability in the region have are worrying. Skeptics wonder if private-sector investments on Rawabi's scale can overcome the political realities of long standing conflict.
Palestinian developer Bashar Masri and the Qatari Diar Real Estate Company began joint construction in 2008. Masri and Qatari Diar envision Rawabi as a link between the West Bank and the "global knowledge economy," bringing tech, health, media, and clean energy sectors to the West Bank—strong forces to support a region suffering from a 27 percent unemployment rate and a housing crisis.
While Rawabi offers West Bank residents greater opportunities and better lifestyles, it also offers international brands and firms access to an underutilized market, an educated workforce, and a cost-effective location. If successful, Rawabi will serve as a shining example of how private development, business interests, and the social good can intersect to everyone's benefit.
"To most Palestinians, Rawabi is a symbol of hope and ability," Masri told the Washington Post.
The city is not without its critics, however, and their concerns highlight the major challenges to the project. Some advocates for Palestinians most in need of housing and income feel that much of the city is out of reach of those outside of the middle-class.
The billion-dollar investment may also distract from larger problems facing Palestinians in the West Bank. "I think this is more of a publicity stunt in many ways. There are so many pressing problems in Palestine," said Lisa Goldman, director of the IsraelPalestine Initiative at New America.
Others are concerned about Rawabi's ability to deal with the realities of the decades-long Israeli-Palestinian conflict.
Critics from Israel's right wing worry that increased traffic and waste management needs will strain current infrastructure and lead to tensions between Palestinians and Israeli settlers or even outbreaks of violence. "If Rawabi fails, it's a failure for the two-state solution. It's a failure for the peace process," noted Saeb Erekat, Palestinian politician and a chief Palestinian negotiator of the Oslo Accords.
For now, Rawabi has overcome many of its critics' concerns.
After a lengthy negotiation with a number of Israeli ministers regarding hooking up Rawabi to the water supply network, the city is set to hand over the keys to its first 700 residents, directly after the holy month of Ramadan. And Palestinians are optimistic: "It is a new life in Rawabi for me," future resident Khaled Khader told Newsweek with happiness from Ramallah.
To view original article, Click Here.