US welcomes Israel's decision to connect the city of Rawabi to water grid
Maarive News - Michael Wilner and multi Keinon - State Department spokesman said that this is a positive development and also appealed to the government to stop power cuts targeted Palestinian cities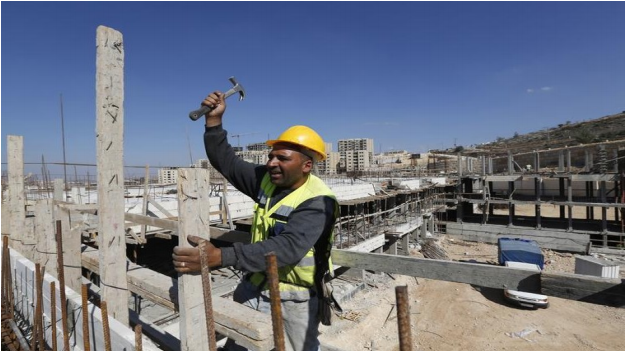 Construction worker in the city of Rawabi.
Israel's decision to connect the new Palestinian city of Rawabi to water grid is a welcome development, the US State Department said tonight (Friday).
"We expect that Rawabi will get the water it needs to function, and the deliberate pause in supplying Palestinian cities with electricity stops " said department spokesman Edgar Vasquez to the Jerusalem Post. He added that the United States supports all efforts to improve the investment climate, and create greater well-being and options for the Palestinians and Israelis.
Prime Minister's Office announced yesterday that Israel will connect the city to the water system of Israel. It was also reported that the state will use NIS 200,000 out of the Palestinian Authority frozen tax money, to pay part of the PA's Electricity supply owed to Israel, which sums up to 1.9 Billion.
Refusal to connect Rawabi, which is north of Ramallah with water, prevented populating the city. Vasquez added that Washington encourages the parties to continue the dialogue to resolve the Electricity power supply.
To view original article, Click Here.