Israel is committed to the city to prevent the next intifada
Walla News - Enviable views, a huge amphitheater, glittering mall Intelligent Transportation: Rawabi is supposed to be paradise to the Palestinian middle class, and even real estate prices are not in the sky. So why is this city, under development, which is "an Israeli interest" according to President Rivilin is abandoned? Answers are with Minister Silvan Shalom
Unlike Modi'in, the first planned Palestinian city Rawabi, north of Ramallah, should stand at the forefront of technology. For example, each resident will be notified directly at his cell phone when it's time to pay the municipal tax, water or electricity bills. This is a new Record
At first glance the new city looks reminiscent of a new neighborhood in Modi'in: Buildings of average height and floors, with apartments arranged just waiting for families to accommodate them. The windows have already begun to have the shutters and glass, and only the other day they tested the night lighting modernity.
Planning is one thing, but reality is another. Construction of the first 700 housing units was completed in Rawabi a year ago, but none of the apartments owners has moved to a house he bought. Why? Because the city is still not connected to water. Why not? It is because the Israeli government is delaying the connection. Why the delay? That is Hard to explain.
Logic says the rapid populating of Rawabi will serve both - Palestinians and Israelis, even rightists and settlers. The explanation is simple: Rawabi is being built according to higher construction standards than any other city in the West Bank, and even to many cities in Israel. The standard of living is expected to be much higher than the average in the territories. At least theoretically, Palestinians moving to the city would not want to be part of any violent confrontation with Israel, certainly not to participate in the Intifada. The city already provided and still provides thousands of jobs, so obviously economic well-being will distance the labor workers away from the cycle of violence.
As more prosperous the city becomes, and more residents live there, so will the danger of widespread conflict in the West Bank stay away too. To Palestinians who bought homes in the city, it is clear that the transition to Rawabi will do just fine. Occupation, and No despair, will become more comfortable.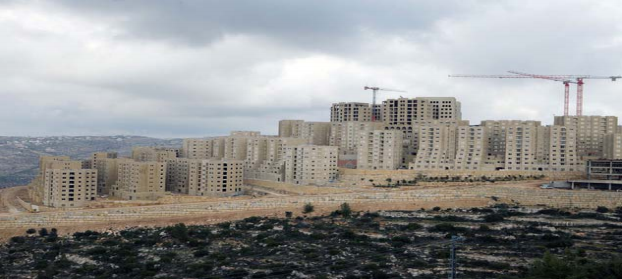 It makes sense, though almost trivial. But it doesn't when it comes to decision-makers in Israel. They are, it seems, trying to hitch a ride on the new city to bend the hand of the Palestinian Authority regarding its attitude toward the settlements, and perhaps in more precise wording; it is to break the hand of the Palestinian Authority.
For many years the Defense Minister Moshe (Bogie) Ya'alon delayed permission to connect the Rawabi water, because he wanted the Israeli-Palestinian JWC to seal connecting Rawabi water infrastructure - but also to some Israeli settlements. That is to say, Ya'alon wanted to settle the water sector of the Israeli-Palestinian conflict in a way that would protect Israel from a political trouble in the future. This was unacceptable to the Palestinians. In their perspective, convening the Conference at the era of Netanyahu would be perceived as an attempt to legitimize the Palestinian power to squeeze or stop water flow to the settlements.
To his credit, the defense minister in the end was convinced of the necessity of populating the city. Three weeks ago, Ya'alon confirmed and permitted connecting Rawabi to Mikorot.( The Water Co. in Israel). Coordinator of Government Activities in the Territories, Major General Yoav (Poly) Mordechai, considered a sovereign government body in the West Bank, sought to advance the project as quickly as possible. Mordechai was one of the chief supporters to start quick connection of water to the cityr, especially in light of the security interest of the State of Israel. Besides Rawabi, General Mordechai approved connecting several Israeli and Palestinian projects to water, including baptism site in Jordan, Herodion and several outposts in Judea. After the Ministry of Defense approval, Mordechai decided to intervene in another political issue, with Minister of National Infrastructure, Energy and Water Minister Silvan Shalom. Now his approval is delayed! Why? Answers follow.
"Instead of spending time in Jaffa, they will come lo Rawabi"
There are so many beautiful things in this city; which makes it hard to choose where to begin with. Perhaps begin with the magnificent amphitheater for performances and concerts designed to accommodate about 15 thousand seats. All built according to extra-level design and exceptional accuracy; Huge parking lots, pathways that allow a quick short arrival from the parking lot to the amphitheater, sound and lighting systems around, locker rooms, VIP parking which passes under the amphitheater, shops cells in the upper deck together with many other services. And perhaps the first thing that bluntly stands out, Is the view from every corner of the City. Here's Azrieli Towers and the coast of Israel. Here's Modi'in and Ramallah. And perhaps here is the shopping center being built these days and which will include a movie theater, an indoor swimming pool, reminiscent of the Mammilla Mall in Jerusalem, cafes and restaurants and fashion stores including most valuable brands imaginable.

"We have several goals," says Deputy CEO of Rawabi, Amir Dajani, Assistant of the entrepreneur and businessman Bashar Masri. "We want to build a touristic attraction, and a destination to visit the new city. Instead of going to the Old City of Jerusalem or Nablus, or go to Jaffa, people would say, 'Let's go to Rawabi. Recreation center would be here, food, culture, 250- rooms' hotel, an amphitheater, a football and athletics stadium, and on top of that we have built three schools and a large clinic.
"Our other goal is to leverage the Palestinian economy. We have created 8,000 jobs here, from cleaners to contractors during construction phase. We have here a blocks factory, as well as cement, and iron ones too. We will create permanent jobs for3,000-5,000 people: teachers, doctors, entrepreneurs, business people, we will also establish a technology incubator here. We have many sources to mobilize all these workers from: - Bir Zeit University is just five minutes from here and An-Najah University in Nablus - a 25-minute drive. Rawabi will become a magnet for pioneers ".
According to Dajani, a resident of Jerusalem likes to buy his bread from Berman bakery in Givat Shaul, so similarly the city's target visitors will be young couples, educated middle class. "We are here to contribute to building a Palestinian state. We want to build new cities and the success of Rawabi will of course affect the success of the Palestinian economy." When asked what other new cities it is, Dajani, smiling, said "Let's focus on the success of Rawabi in the meantime," he dodges, elegantly. "We're talking about a project that will shape history. A third of our engineers and architects are women. This is unprecedented in Palestinian and Arab societies. It is a tremendous experience for them - to design and build a city – just exactly like all of us men.
"We started here from scratch. We had to think about everything: infrastructure, telecommunications, medical facilities, fire, and education. It's going to be a green city. We recycle everything here. There will be no satellite dishes or water tanks on the roofs as in every other Palestinian neighborhood. Computerized systems will recycle water for one special purpose to supply cycled water together with surplus drinking water to gardens. We have gained the ability to cycle at the highest technological level. There will be here free electrical public transport for residents only, while visitors will be asked to pay. We are also planning an industrial park, yet we did not get an approval from the Israeli side, but we paved the way to it.
Rawabi housing prices are not sky rockets high, they are not even compared to Ramallah or Bethlehem. "Simple apartments will sell for about 80 thousand dollars and it may reach to 200 thousand dollars, depending on the size of course. In the first stage, buildings are of medium height. The next phase will include two-storey houses with a garden. We are planning a total of 6,000 housing units in which there will live About 25 thousand people. "
What about the villas?
"Villas! Let's start with drinking water, and then we will talk about the villas".
The Last Kilometer
The giant project was launched in 2008. First few dirt roads were paved, and then, a neat little town, slowly rose up before the eyes of residents of the Atara village, and the neighboring Ateret settlement. Even yet, and after four years, entrepreneur al-Masri and his deputy Dajani are trying to obtain the approval of both Israeli and Palestinian authorities, to link the city with water.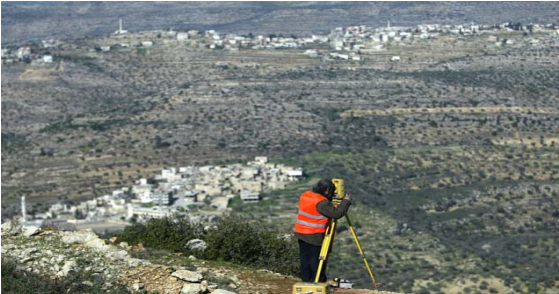 "The issue of water haunts us like a black cloud," says Dajani. We are driving now, along the water pipe that he and his staff have laid in PA (Area A) and ( Area B) which is under Palestinian civilian control, to where the pipeline is interrupted - exactly where the land is depicted by maps as Area C, an area under full Israeli control. And it is Here, Israel did not allow them to continue.
"All I need is a pipeline for a total length of 3.5 kilometers to reach the point of 'Mikorot sources' at Um Safa village. We've already Laid (out of the 3.5 Km), 2.4 kilometers of pipeline in Areas A and B, and all we miss and need, are 1.1 Km which is supposed to cross Area C".
Dajani points to the water reservoir which was built about half a kilometer from the city, the one that is supposed to ensure a constant supply of running water. "We approached the Palestinian Water Authority, time and again, to get permission from the Israeli side, to avail a source of a stable and permanent water supply, but to date we have not received anything. Why? I'm not a politician, I deal with the economy," he replies back.
So what's the problem? JWC (Joint Water Committee) should have been convened by 1995 Interim Agreements, to approve water supply to projects of the kind of Rawabi, including settlements. Since 2010 the Palestinians refused to convene the committee because they are not willing to approve the transfer of water to the Israeli settlements. Meanwhile, of course, there has been no disruption of water supply to the settlements. Mikorot supplies water to all West Bank Jewish homes.
However, the political leadership fears the future consequences of non-convening the Joint Committee, thus entailing possible claims that Israel is "stealing" water from the occupied territory.
The defense minister must have seen the completion of the first phase in Rawabi as a rare opportunity to press the Palestinian Authority. He delayed granting approval to water, so as to force the PA to convene the Joint Committee and approve the transfer of water to BOTH the settlements and to Rawabi. The problem is that the PA refused to play this game. It turns out that Palestinian politicians used Rawabi as a Playground, in other words, the Authority was not so concerned if this great project is delayed, partly because it was a private property of a wealthy businessman who is not part of the corrupt Palestinian political system. Therefore, the Authority held her ground and refused to convene the committee. Eventually Ya'alon was convinced that such a positive potential inherent in the city, justifies unilateral action to connect Rawabi with water. President Reuven Rivilin also said this week that connecting Rawabi city to the water grid is in Israel's interest. Since then, the Minister of Infrastructure Shalom stopped everything. In his view, the connection must get the approval of the Joint Committee.
Why? Shalom response is below:
"Shalom and Water Authority believe that approving unilaterally without convening the committee, as proposed and pushed by several Israeli officials, will hurt and drop the basis for regulating the continued operation of the Joint Water Committee.
Moreover, in the political context at large, the proposal could lead to the complete dismantling of the Israeli-Palestinian Water Committee, as well as damaging Israel's water economy, while damaging the cooperation with professional ranks, which now helps keep our water resources and prevent damage to aquifers. We will be happy if the Palestinians will return to them and the committee will discuss projects of both sides. "
To view original article, Click Here.