What was said and what is being said about the city of Rawabi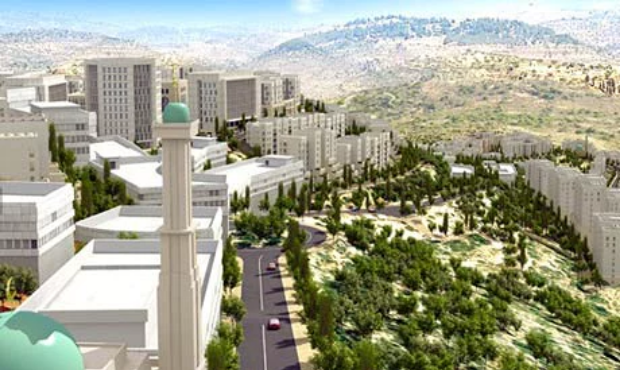 DUNIA ALWATAN - Dr. Samir Mahmoud Qudaih - The city of "Rawabi", adjacent to Ramallah in the West Bank, constitutes hope to the middle class Palestinians, to get residence in an integrated city, which represents a significant shift away from the traffic congestion and random urban sprawl that characterizes the rest of other cities in the West Bank.
Rawabi stretches through 23 neighborhoods, where each and every one of them enjoys hi-tech facilities and sustainable environment; as it has been designed by the well known International company "AECOM" (Architecture, Engineering and urban planning), with the participation of experts from the Birzeit and Al-Najah Universities in the West Bank. It features a glittering medium –high buildings, public gardens, cafes, shopping areas and residential sites, in addition to specific business facilities, with future plans to accommodate new projects such as a vast cultural center, an amphitheater, schools, mosques, churches and hospitals.
Rawabi will provide children and young people with the opportunity to spend leisure time and quality activities through the availability of stadiums and sports facilities that will contribute to satisfy their hobbies and develop their abilities as well. Moreover, Rawabi will not be limited to being a residential or commercial center only, but its facilities will become the city's diverse recreational and cultural centers, a destination for Palestinian youth, where the city will host various entertainment activities and will be a forum for the care of cultural exchange.
Its buildings bear the character of the local Palestinian architecture, where flowering trees and native plants are distributed on the side-streets piers. To maintain the landscape aesthetic of the city, keen organizers created a scheme to extend the gas and electricity networks, as well as water and telecommunications pipes underground, a fact that makes the city unprecedented and unique in the West Bank, particularly because since its inception, developers took into account the needs of a marginalized community of young professionals with university education, but who couldn't afford the prices of flats and houses to own, for a long time. But through provision of housing on a large scale, individuals can and will eventually purchase their own apartments. Within a very short period, Rawabi is expected to host 40 thousand Palestinians to move in and live in the city.
The Rawabi project of such excellence stimulates the Palestinian Investors and helps reduce unemployment, which is a basic dilemma, by employing large numbers of manpower. Building Rawabi is an achievement towards the creation of a Palestinian state, whereby this construction is a source of pride for every Palestinian and every laborer at the project site who enjoys excellent working conditions, especially in terms of public safety, wages and rights, bearing in mind that thousands of labor force including managerial and reception staff, let alone engineers and technicians, boast of working in the city.
"Rawabi" is consistent with the serious strategy of the Palestinian Authority to build institutions and attract foreign investment as a cornerstone of a future state, at a time in which the Palestinian economy's dependence on foreign donors will gradually eases on. In spite of all the obstacles set by Israel consistently, Rawabi developed from a mere dream unto a reality, and has become a typical Palestinian city to see the light and open its doors to Palestinians, who chose their apartments that correspond with their income level.
Against hundreds of operations and control over confiscated land parcels to the benefit of constructing Israeli settlements, hope pops up to establish a new Palestinian modern city, built according to an organized structural master plan, on Palestinian land and fully funded by the private sector.
Palestinians consider Rawabi, north of Ramallah, as a shield that protects parts of the Palestinian territories which falls within confiscated zones that settlers aspire to confiscate and annex to the their settlements, which are being expanded continuously.
Settler's harassment and threats did not hinder the building process at Rawabi, which includes 23 residential neighborhoods equipped with all necessary modern utilities.
Thanks to this magnificent effort of the distinguished Palestinian businessman Bashar Masri, who just turned 52 years old, this senior Palestinian economists who was born and raised in the city of Nablus and studied in an American University, founded the "Massar Int'l Company "in 1994, which today includes 15 sub-companies, in addition to a large number of business activities around the world. The goal of Mr. Masri centered on the establishment of the first modern preplanned city in Palestine, "Rawabi", which to the Palestinian businessman, is not an investment project only, but also is an important and integral step towards the establishment of a Palestinian state as well.
Mr. Masri aspires to build a modern Palestine, with simple homes interfaces, built of local stone, and with streets void of garbage or satellite dishes on the balconies or windows. Mr. Masri believes that "The city of Rawabi project is an important and vital step in terms of installing and accommodating Palestinians on Palestinian land, and is by itself a barrier in the face of more settlement expansion."
He established the first modern city in accordance with an -urban master plan – including up to date architectural schemes, consistent with sustainable environmental practices.
The Rawabi project demonstrates the will to implement important, qualitative, and sophisticated schemes and methods of work, organization of such huge size project, and the mechanisms in place to achieve modern planning.
Everyone has praised the great Palestinian economist, Mr. Bashar Masri and his efforts in outstanding investments for the benefit of our people, and his personal emphasis on permanent use of Palestinian labor and product.
To view original article, Click Here.