Building Palestinian Democracy, One Brick at a Time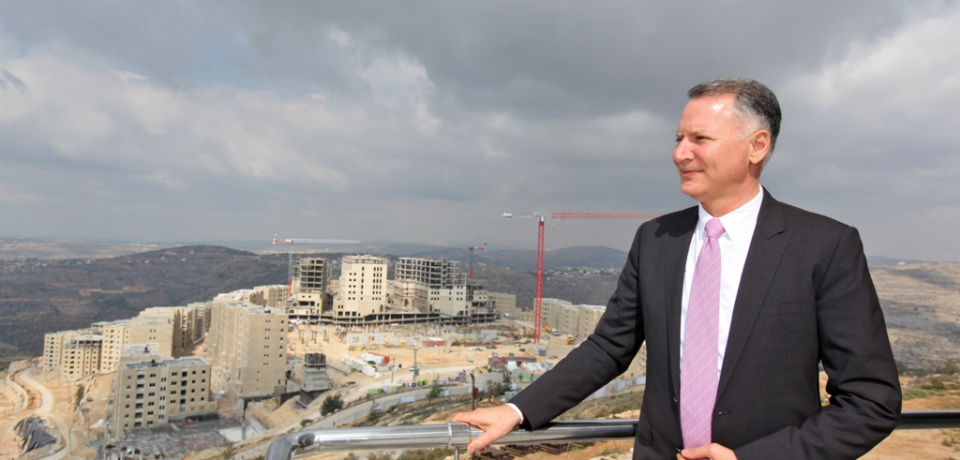 Foreign Policy - JONATHAN SCHIENBERG - Palestinian businessman Bashar al-Masri has a plan for building democracy on the West Bank. And it's not really about politics.
Rising from the desolate hills north of the West Bank city of Ramallah is Rawabi, an ambitious housing project aspiring to be the first "high-tech city" in Palestine. The project launched in 2007 and is financed to the tune of a billion dollars from the Gulf sheikhdom of Qatar. This coming fall, Rawabi will welcome its first inhabitants to move into state-of-the-art, eco-friendly, high-rise apartment buildings outfitted with solar panels and rooftop rainwater collection systems — and if all goes according to plan, it will take in 40,000 new inhabitants in the next 10 years. As the largest Palestinian construction project to date, Rawabi has already been a boon to the local economy, providing 4,000 on-site jobs.
The project is the brainchild of the 53-year-old Palestinian multimillionaire Bashar al-Masri, who calls it the first stage of a Marshall Plan for Palestine. The development includes a 5,000-seat outdoor amphitheater for theatrical events and rock concerts, a soccer stadium, two schools, mosques, and churches. Masri (pictured in the photo above) is even planning for a movie megaplex that will screen the latest international films, something unavailable elsewhere in the Palestinian territories. "People will come here from Ramallah. It will be a cultural hub, featuring theater and arts from all over the world," Masri, who confesses a particular fondness for opera, boasts.
One could easily accuse Masri of indulging in the sales hype common to real estate developers around the world. But Masri has something much more ambitious in mind. As long-awaited Palestinian statehood draws closer to realization, notables like Masri are acknowledging that they can't simply wait for their political leaders to do all the work. "For too many years, we've been blaming our situation with the Israelis and the corruption that existed within our own government, without moving forward," he says. "Palestinians need to push ahead despite the occupation and help develop our society, economy, and democracy. We cannot remain tethered to international donors. The day after independence we must have something to show the international community."
He makes a good case. But will conditions in this notoriously volatile corner of the world allow him to make his vision a reality? Though Palestinian leaders continue to press for a full-fledged, genuinely independent state, the likelihood of a peace deal remains elusive. As the failure of U.S. Secretary of State John Kerry's recent peace initiative demonstrates, tensions in the region are rising. Violence on both sides has increased over the last few months. Over 100 rockets have been fired from Gaza at Israel's southern cities, and Israeli airstrikes in Gaza and incursions in the West Bank have resulted in the deaths of several Palestinians. While some Palestinians may take heart from the unity deal under discussion by the long-warring factions of Fatah and Hamas, Israelis are sure to react with skepticism.
Whatever happens on the path to a new status for Palestinians, members of the far-flung Palestinian diaspora are likely to play a key role — and Masri's own experience as a member of that diaspora is crucial to any understanding of his lifelong struggle. Growing up as part of a prominent family in the West Bank town of Nablus, he joined anti-Israel protests starting from an early age. "I saw the Israelis throw many of my friends in jail, and I went to jail three times myself," Masri recalls. His father, a doctor, moved the family to the United States in the late 1970s. Masri eventually earned a degree in chemical engineering from Virginia Tech, and soon found himself with a comfortable life and a successful career at a Washington, D.C., consulting company.
But then, in 1993, came the Oslo Peace Accords, which drew Masri back to his homeland. He formed an investment company, Massar International, and used it as the vehicle for a series of ambitious projects around the Middle East. While Oslo foundered, Masri burnished his credentials. He remained in Ramallah, temporarily focusing his efforts on other projects in the region, making millions with major investment projects that included affordable housing in Morocco, commercial and residential developments in Jordan, and a residential and recreational real estate project in Egypt. In 1999, the World Economic Forum named him one of its "Global Leaders of Tomorrow" for regional projects that addressed issues beyond his immediate professional interests.
A running theme in Masri's work on the West Bank has been the use of economic development as an engine of civic consciousness. "The idea is to give Palestinians some hope that we can create more equality, and thereby build a more democratic Palestine from the grassroots level," he says. "It's our responsibility as citizens to help build a model state from scratch, and I'm asking Palestinians from the private sector to help this country move forward."
One of the most intriguing examples of this approach involves the creation of something rather banal: homeowners associations, which do not yet exist in the West Bank. Masri sees the creation of a class of Palestinian homeowners as a small yet significant step toward democracy. As many Palestinians struggle to find affordable homes, Masri argues that home ownership is essential to building a middle class that will help foster the growth of a liberal society. A few years ago, Masri helped lead a successful campaign to create a 25-year mortgage option for homeowners. He also lobbied Palestinian banks, convincing them to reduce down payments (from 25 percent to 10 percent) for first-time homeowners.
Residents of Rawabi will be required to pay into the homeowners associations that preside over every few hundred units. The city will hold elections and form committees through which the representatives can deal with various issues that arise within the communities. The elected representatives will deal with everything from trash cleanup and playground and landscape upkeep to more complex projects, like working with homeowners who want to set up businesses in the neighborhoods. Masri says."This is real democracy in practice on a small scale," Masri says. He freely admits that Rawabi alone will not solve the problem of the tens of thousands of low-income families looking for homes; indeed, many may ultimately require some form of government assistance. But Masri hopes that his experiment will make a start, setting a potentially notable example.
And he believes that Rawabi can serve as a salutary example in another way as well. He envisions it as a kind of Palestinian Silicon Valley, one that can prevent the debilitating brain drain of Palestine's highly educated youth, who face an unemployment rate of over 20 percent in the West Bank. Many members of the younger generation have college degrees, says Masri, and he notes that many of them in Ramallah face serious overcrowding and a severe shortage of proper housing. "We have a shortage of over 200,000 homes in Palestine, and it's projected to grow to 400,000 in 10 years. Home ownership is an essential first step to enable our young generation to be free to produce great things for their country."
Masri and his associates are working feverishly to attract the likes of Microsoft, Apple, Google, and other major technolog
y companies. "We really want many of the same high-tech firms that are in Israel and Egypt and Jordan to come," he says, his voice tinged with desperation. But convincing the tech giants that this is the right time to invest is easier said than done.
To view original article, Click Here.