ESQUIRE - A NEW PALESTINIAN CITY OFFERS PROMISE OF ECONOMIC INDEPENDENCE IN OCCUPIED LANDS. BUT WILL THE AMBITIOUS PLAN SUCCEED?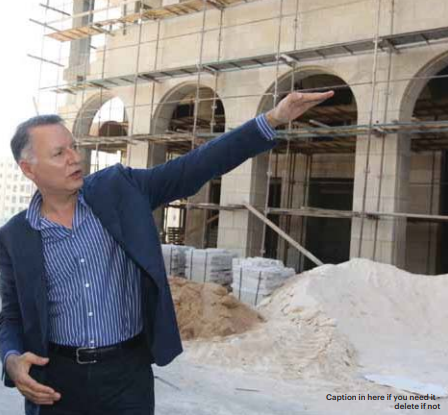 Bashar Masri has an audacious plan into which he's poured $1 billion. He is building the largest private sector project and the first planned city in Palestine, a gamble that requires a belief in the future of his country.
Funded by private investors and his own money, Rawabi (meaning hills in Arabic) has been slowly taking shape on the hills between Ramallah and Nablus in the West Bank since 2010. Making sure by-passers know its origin, the biggest flag in Palestine flutters proudly on top of the construction. "My vision is to build a sustainable city that could be duplicated," he explains in his onsite office.
"If I sell the real estate, which is the easy part, but fail to create jobs then the vision fails. But if I can create jobs it means you can take the model and dump it next to Jenin, Jericho or Bethlehem."
Rawabi will represent a slice of the American Dream plonked in the hills of Palestine. The residential section is designed to fit a total of forty-thousand residents and will be made up of condominium buildings linked by green walkways and outer ring roads. On a clear day, residents will be able to enjoy panoramic views of the Mediterranean Sea forty kilometres away. Just below the residential buildings, a twenty-thousand-seater amphitheater, convention centre, theatre, park and rows of shops, with a grand staircase snaking up the hill connecting it all, will complete the spectacle.
In order to bring this plan to realisation, Masri, through his private conglomerate, Masser International, has so far invested one third of the total $1 billion.
The rest has come from Bayti Real Estate Investment Company, his property investment arm, with a loan backed by Qatar Diar Real Estate Investment Company.
The project was initially formed on a public-private partnership between Qatar and the Palestinian Authority (PA). From its partnership, the PA agreed to pay for the building of schools, a police station and some other public amenities in Rawabi at a cost of $150 million. However, that money is yet to materialise. "Most of the funding has come from us. We got the land and master plan approved, then got the funding from the Qataris, which is a commercial loan. We're still expecting to receive something from the PA. This is a city like any other city in the West Bank such as Ramallah and Nablus and they receive funds from the PA," he says.
The plans are all the more ambitious given Masri's background. Born in Nablus and educated in Egypt and America, he began as a chemical engineer with a background in management consulting in Washington DC, before moving back to Ramallah in the mid-1990s.
He has since founded and nurtured several businesses across Palestine including the Palestinian daily newspaper Al Ayyam and Bayti Real Estate Investment Company and was named as a Global Leader of Tomorrow by the World Economic Forum.
"I'm not a real estate developer and I've never built a city," admits Masri, whose previous experience in real estate development has been overseeing a middle income housing project in Morocco, a commercial and residential development in Jordan and a recreational project in Egypt. "I would classify myself as a practitioner. We have been looking at best practices all over the world and we've implemented them here within our means. We have a special piping system to collect water from the roofs and the lights in the streets are LED light, which consumes less electricity. However because of certain financial restrictions there are a lot of things we can't do. For example, we would love to have solar powered electricity but we cannot afford it and if we can't afford it then the consumer can't afford it," he says.
The grandeur of the project might seem very out of place in a state where the per capita income is $1,610, and unemployment is more than twenty percent in the West Bank. The Palestinian economy currently remains buoyant mostly from foreign aid. Foreign governments and aid organisations contribute about $1.5 billion a year, which has mostly gone to the Palestinian Authority. This helps finance its deficit rather than contribute to investment in the private sector.
During the statehood-building years of PA Prime Minister, Salam Fayyad, the West Bank did see a temporary economic rebound.
But according to the World Bank, in the last couple of years it has been contracting again due to the unresolved peace process, Israeli settlement expansion and the continued restrictions placed on what the 1994 Oslo Accords designate as "Area C," where Israel maintains both security and administrative control. A World Bank report calculated that the Palestinian economy has been losing $3.4 billion per year from this arrangement.
However, the real estate market has been on the upswing, especially in the West Bank's capital, Ramallah. Experts are wary of a realty bubble after property prices in Ramallah have been pushed up due to lack of space and a large population of well-paid foreign NGO employees and diplomats.
According to Dr. Adel Said Zagha, the Dean of Faculty of Commerce and Economics at Birzeit University, Palestine, there is also a genuine demand. "Housing units are still vacant in many West Bank cities. Some commercial towers are not fully occupied yet. But on the other hand, the rate at which the extended family system is breaking into nuclear families is very high and the percentage of people living in the rural areas is declining rapidly. If we add this to the high population growth at some three to four percent annually I believe that enough dwellers can be found," he says.
House prices in Rawabi range from $75,000 to $150,000 for units between 130 and 230 square metres in size and $600,000 for the penthouses, making them much more affordable than Ramallah's house prices, which can reach $4,000 per square metre or higher. To address the lack of mortgage system in the country, the Overseas Private Investment Corporation and the International Finance Corporation set up a $500 million mortgage fund in 2010 enabling the purchasing of the units at Rawabi. "So far finding people to live in Rawabi has not been an issue. The first two neighbourhoods are sold out and will be ready early this year," says Masri, adding that several thousand people will soon move into the first six-hundred homes.
Masri says he is looking for a base population of at least fifteen- to twenty-thousand local residents before he starts focusing on international buyers, which will be in another three years according to his calculations. "We do have interest from Palestinians living in Israel and international investors, but I'm not selling to them yet as I want to focus on the local population first. Right now the vast majority of people buying at Rawabi are people from the West Bank including Jerusalem. I want to build a community; I want people who own the flats to live there because they set the culture for the future."
In a country where different Christian and Muslim sects often live in segregated communities, Masri says he has also been careful in ensuring a completely mixed demographic. In his vision to unite all of Palestine's cultures, religions and demographics, the development has a policy where no one can know who their future neighbour is prior to moving in.
"Everyone wants to know. Some people don't want to buy when they can't find out. But we are committed to creating a melting pot from all the villages and cities and all economic levels of society."
In the meantime the project is creating jobs – around five thousand already, making it the single biggest private sector employer. This represents three to five percent of the local labour force and as the development opens up and residents start moving in, Masri's
target is to generate another threethousand jobs in the next five years.
Along with overseeing the construction, Masri spends his days negotiating with international companies to ensure there are jobs and retail stores ready for the city's future inhabitants. He has been eyeing up IT, outsourcing and telecommunications companies as well as a number of banks, and is hoping for a fifty-fifty mix of local and international companies, which has proved to be a challenge. "We have a flood of local companies interested but very few international companies. They have come to Rawabi to make an assessment but the problem is not Rawabi, it's the political situation in Palestine. They're afraid to come here. Their main concern is how to get their inventory past checkpoints and how to get working visas, which are legitimate concerns. But I want to find companies whose leadership will make an initiative from their heart," he says.
Herein lies the biggest challenge: the multiple restrictions enforced by the Israei government on the Occupied Territories on which Rawabi is located. Trying to gain road permits and access to transport material and workers is a daily struggle. Part of the land is located on "Area C," and to reach the site, cement mixers and trucks have to cross a two-lane road that curves through an olive grove. Road access is temporary and the permit for it needs to be renewed every few months. Masri is fighting for his own road to link Rawabi with Ramallah just over an hour away.
Another political hurdle has been water, for which Israeli cooperation is also required. Masri complains that the quantity Israel has allocated is barely enough to accommodate the construction needs of the project.
Beyond the logistical issues and the question of economic viability, Rawabi has created a stir from both ends of the spectrum for other reasons. It has attracted a stream of foreign dignitaries who praise it as the flagship project of a future Palestinian state. But there are also critics who cite it as an extension of the Palestinian occupation.
One of the main points of contention has been how the land was acquired. The bulk of the site was private land purchased by developers from the Bayti Real Estate Investment Company. The remainder was sequestered by a Presidential Decree in 2009 to be used for a national project. Critics ask whether this land should have been given to a private corporation that stands to make a profit. The village that lost most land is Ajoul, which was mostly made up of olive terraces. The small population of residents were compensated with money, but not to the value of what the land was worth after the planned city had been announced.
"Some of the criticism might be true especially with the way the land was appropriated and purchased. But this is the way trade is built on," says Dr. Zagha. "Harsh market realities might not coincide with the culture of the Palestinian society." Masri says he's aware of the concerns, but argues that "this is a city for the Palestinian people. The good thing to note is that the critics have died down."
Other critics cite the physical similarities of the city's structure to the illegal Israeli settlements such as Ateret and Halamish that also dot the nearby hillsides, from its organised layout to the location on top of a hill. "I find that ridiculous.
Should I leave the top of the hill so real settlers can come and occupy it? Should I make it disorganised to make a point? I understand the sensitivity and that's why if you look at Rawabi there are no red roofs, which is what the settlements have," Masri explains.
The development also came under fire when the Jewish National Fund donated three thousand saplings to the project as a "green contribution". Following an opinion piece published in local newspaper Ma'an by senior Fatah member Uri Davis, which called on Rawabi to uproot the trees, Masri announced that the trees would be replaced with olive trees.
Masri's vision is ambitious and some say unattainable, but despite it all he's determined to push through. He sees it as the future of Palestinian economic independence and a model for urban planning. In the meantime he's thrown himself fully into the project and is even allowing himself time to enjoy the challenges he faces. "I love every moment of it. I am on vacation.
It's difficult but it's a lot of fun. I enjoy seeing the result and seeing what these young people are producing," he said flourishing his hands in the direction of the bustling construction site.
To view original article, Click Here.