West Bank home buy a leap of faith
NZ Herald - Newlyweds will be among first 600 households moving to $12b project that is first Palestinian high-tech city
Newlyweds Yara Abdallah and Montaser Hamdan are taking a leap of faith by paying a deposit for an apartment in what will be the first Palestinian high-tech city - but there's no guarantee there will be a secure water supply when the couple move in early next year.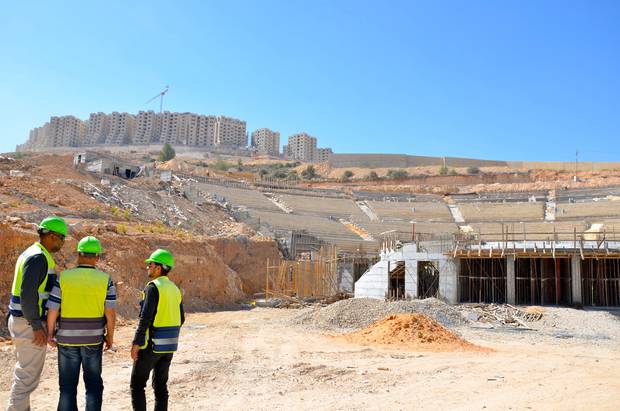 The site is under construction.
Abdallah, 25, a communications adviser, and Hamdan, 27, a real estate worker, have been married for three months and have decided to buy their first home in a $1.2 billion housing development called Rawabi in the West Bank, the brainchild of Palestinian-American Bashar Masri.
The name Rawabi, which means hills, was chosen by schoolchildren in the Palestinian authority area, outshining suggestions such as Jihad or Arafat City.
Abdallah and Hamdan are enthusiastic about the new city and their first home - they are a symbol of an emerging upwardly mobile generation of Palestinians who hope that Palestinian nationhood can be built from a strong economy.
At the top of a steep hill towering over the construction site of Rawabi is a showroom bordered by large Palestinian flags.
From this height you can see a Jewish settlement called Ateret, which houses 100 settlers. It is illegal under international law.
Rawabi is between Ramallah and Nablus, a 45-minute drive from Jerusalem, and on a clear day you can see Tel Aviv.
Abdallah and Hamdan will be among the first 600 households to move into Rawabi after the first phase of construction is completed early next year.
They have paid a $14,700 deposit on their three-bedroom apartment worth $147,000 and have secured a mortgage to pay the rest. At the moment they live in Ramallah and say the quality of life is lower than they expect Rawabi to deliver. They can't afford to buy a house in Ramallah.
"It's not just any project - the Palestinian situation is really complicated and things are not easy - it can't be done easily. To see this project becoming real and developing day-by-day is something that makes us proud," said Abdallah.
"It's something that makes us very proud, because it's proved that we can build a state," added Hamdan.
They said the only concern they had about Rawabi was a spot checkpoint between Rawabi and Ramallah that is sometimes closed without warning and could stop them getting to work.
A further 8000 Palestinians are on a waiting list to buy an apartment in Rawabi, which will eventually house 40,000 residents in later stages of construction.
Rawabi is the largest-scale private investment the West Bank has ever seen. It has been in planning since 2007.
Once it is complete Rawabi will boast a business district with a central piazza, restaurants, cafes, a mosque, a Greek Orthodox church, amphitheatre, sports field, cinemas and a convention centre.
A third of the project is funded by Masri through his conglomerate Massar International and the rest comes from the Qataris.
A further $180 million is still needed to set up the infrastructure for Rawabi.
Masri said securing water from the Israeli Government to allow construction and for the residents next year had been a major bottleneck for the project.
He said the Palestinian Authority was also part of a five-year delay to the start of the project.
The construction of Rawabi was hampered because consent to build an access road through a part of the West Bank under Israeli control called "Area C" was held up for two years. Sixty per cent of the West Bank is under total Israeli control.
A temporary permit was granted last year, but it needs to be renewed each year. Construction of Rawabi could start only when the road was built so the hundreds of trucks bringing supplies, including the water to the site, were able to enter.
Access to water is a problem all over the West Bank, but Masri says there's no reason why water can't be pumped into Rawabi from pipes feeding Israeli settlements.
"The water is half a kilometre away from us, the pipeline is so close and it supplies an Israeli settlement," he said.
"We have to beg and negotiate and put pressure on them [the Israeli Government] to get water to bring.
"We're not bringing people from the moon, we're just moving people from one area of the West Bank to another area, so we're not affecting the total consumption of water," said Masri.
The Palestinian Authority promised four years ago it would provide $180 million to set up power, water, sewerage, schools and roads to and in Rawabi but it never materialised. People who buy apartments in Rawabi will have to pay for this with a 10-12 per cent increase in the cost of their houses.
Despite water challenges, people have still bought apartments in Rawabi. Masri said most of the first 600 buyers were couples and families, but 7 per cent of them were single women. Half of the buyers have secured long-term loans, something that was unheard of for Palestinians 10 years ago.
Masri said that at the moment Rawabi was catering only to middle-income families, but he hoped in two years they would offer low-income housing in Rawabi.
Up to 10,000 people had been employed during the construction of Rawabi and the wages were 30 per cent higher than the Palestinian minimum wage of $2.90 an hour.
"The project aims to have up to 5000 permanent jobs in the high-tech and service industries located in the office precinct in the centre of Rawabi," hesaid.
Masri has come under criticism from Palestinians who say he legitimises the Israeli occupation by working closely with Israeli suppliers.
When asked if he was happy with the political situation he has to work in, he told the Herald he was not, saying he spent 70 per cent of his time resolving issues with either Israel's Government or the Palestinian Authority.
"It's not going to plan, we are at least two years behind - we're working on issues relating to politics.
"I was not happy about that five years ago, I am not happy today and I will not be happy as long as there is an occupation.
"Military occupation is not something that anyone under occupation will be happy about and it's very important that people realise this project is not about showing that we are happy under the occupation - this project is despite the occupation that we, the Palestinian people, can do and deserve a state.
"I've always wanted to do a project that creates an impact. That proves to ourselves - we don't need to prove to anybody else - that yes we can; we can build our nation and our nation is not just building Government it's also having a better economy, better human rights and a better social life."
To view original article, Click Here.