Palestinian city Rawabi rises in the West Bank Read more at: https://www.scotsman.com/news/world/palestinian-city-rawabi-rises-in-the-west-bank-1-3223861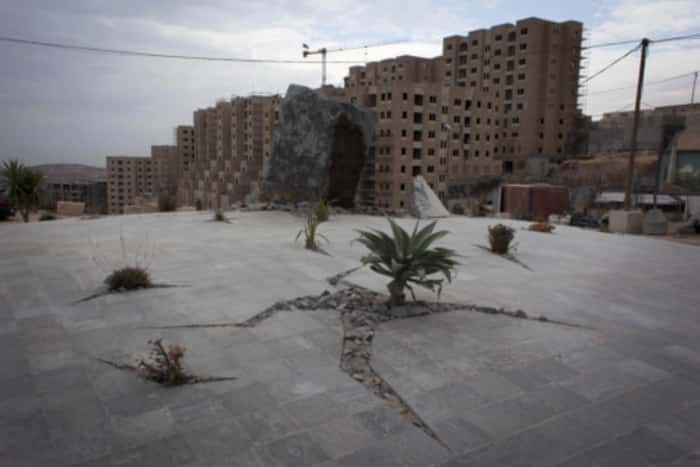 The Scotsman - KARIN LAUB - ON ONCE desolate hills in the West Bank, a modern city is being built which is fast becoming a symbol of Palestinian pride.
A huge Palestinian flag flies over Rawabi, a signal to Israeli settlers living nearby that the first new Palestinian city to be constructed since Israel captured the West Bank in 1967 isn't just about property development.
"It's a message … that we can also put facts on the ground," said Palestinian-American developer Bashar Masri, using a phrase associated with Israel's settlement construction on lands Palestinians want for a state.
The city looks like the large Israeli settlements in the West Bank, with neat rows of flats, and will have amenities unheard of in most Palestinian towns. They include an open-air shopping mall, a convention centre, restaurants, three cinemas, a gym, a five-star hotel, a science museum, a medical centre, an amphitheatre seating 5,000 as well as a football stadium.
It's the first Palestinian city built according to a master-plan, in contrast to the crowded and often chaotic West Bank towns and refugee camps.
Construction in Rawabi began in 2011, with 5,000 labourers working in two shifts.
Eventually, Rawabi is to have 30,000 residents in 6,000 homes. Flats in two of 23 neighbourhoods and parts of the town centre have been completed, and the first tenants are to move in by May.
Next to Rawabi's sales showroom, a giant flag, measuring 1,450 square feet, flies in direct line of sight of the small Israeli settlement of Ateret on the next hill. Such proximity of Israeli settlers and Palestinians is typical of the West Bank.
Palestinians run their own affairs in just over one-third of the land, while the remaining 61 per cent, called Area C, remains under Israeli control and is home to 350,000 Israeli settlers. The World Bank has said less than 1 per cent of Area C is open for Palestinian use. The Palestinians could expand their economy by one-third if Israel allowed them access, the bank has said.
Israel has said developing the Palestinian economy is a strategic interest, but that issues such as access to Area C need to be dealt with in negotiations.
The Rawabi developers – Mr Masri's Massar International and Qatar's Diar Investment – ran into trouble over the land divisions early on. More than 90 per cent of the city's 1,560 acres is under full Palestinian control, but the access road runs through Area C for about two miles. Mr Masri said he spent five years trying to get Israeli approval for the access road, with former prime minister Tony Blair lobbying on Rawabi's behalf. About two years ago, Israel granted a temporary permit for a two-lane paved road, enabling Mr Masri to push ahead. A request for a permanent permit is now being considered. Israeli military spokesman Major Guy Inbar said that process only could begin when Mr Masri bought land alongside the road a few months ago so it could be widened.
But Jack Nassar, a Rawabi spokesman, said Israel had denied permit requests because the road runs through Area C, close to a settlement, not because of ownership issues.
"A lot of people are sceptical about buying because they worry about the road," Mr Masri said. "They don't want to be in a prison."
The project is also running over cost because the cash-strapped Palestinian Authority has not kept its promise to lay down infrastructure, he said.
Mr Masri has had to increase prices, but has sold 600 flats and is trying to improve buyers' access to finance.
But the plucky developer said he has no regrets.
"Investing in Palestine is very risky, regardless of what project," he said.
To view original article, Click Here.