Palestinian Modi'in: Who wants a huge apartment at 140 thousand dollars in Rawabi?
Xnet - Michael Yacobson - Tens of thousands of middle-class Palestinians will move soon to bourgeois-style residences with unprecedented life style '' only 16 kilometers " from Modi'in, whose mistakes have been learned here. Israeli companies built large apartments sold at ridiculous prices: How is this possible in the territories, but not with us? And will Israelis buy houses here?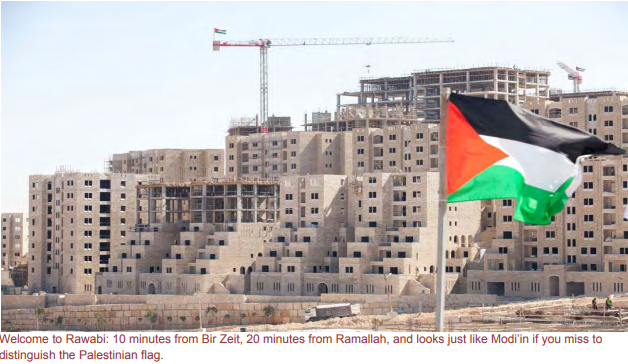 And if I want to live in Rawabi, can I buy an apartment?" I asked Rania Mer'i, the sales woman who accompanied us into the entrance of one out of hundreds of apartments that are in advanced building stages nearing last finishes of the first pre- planned Palestinian city. "You'll have to first get approval from the Palestinian Authority," she said, "and if you get it, then you will be welcome."
Did anyone already get it? I asked.
"Until now, as far as I know, no Jew ever submitted such a request."
The rout to Rawabi from the Gush Dan is smooth and without barriers, and there are lots of route guidance signals accompanying passengers in three languages (Hebrew is one of them), so it is difficult to get lost. The new city is located near major Palestinian cities - 10 minutes from Bir Zeit and its famous large University, 20 minutes from Ramallah, and half an hour from Nablus. Only at few hundred meters away from the settlement of Ateret, comes into view the rapidly growing city in Area A, which is under full Palestinian control. At this location there are no walls or fences, just an attempt to create an entirely new lifestyle for two peoples - Palestinians and Israelis alike.
Mer'i, resident of Ramallah, is one of the 600 first purchasers to receive keys to the apartment in Rawabi. This should happen at the beginning of 2014, and the developer hopes that by the end of the decade about 25 thousand inhabitants will populate the city - whose name means "hills" in English. Design work began in 2008, and within a short period, work began on the ground.
The Giant construction site currently employs 3,000 workers, which makes Rawabi one of the largest employers within the Palestinian Authority domain.
Branding, branding, branding
Branding the city, is the first impression we get at the entrance to the city, which is based, other than the flying Palestinian flags, on signs in Arabic and English in shades of green and blue which are designed to reflect environmental and human friendly attitude. "Live, work, grow" is the slogan of the massive marketing campaign with a logo of a hill which rises in a "heart shaped" logo painted in green.
This branding reflects global, but also local aspirations: Names given to neighborhoods refer to the Canaanite era and relation to the land, and despite all the modern buildings, they incorporated design elements of Islamic architecture.
The offices established at the entrance to Rawabi bear an International look. Here is the mechanism behind the establishment of the city, with stringent labor standards, which is hard to encounter in Israeli construction sites. We went up high on the top of the hill, where the glittering visitor's sales center is located and next to it a line of Palestinian flags fly around a paved square, with a centered Mast flying a particularly large flag. At the foot of the flag, bronze statues of "the first family of Rawabi" lie there proudly, and were overlooking the nearby Ateret settlement, and in the distant horizon you can also see Tel Aviv Ben Gurion Airport.
This is the work of Palestinian artist Suleiman Mansur, born in Bir Zeit and a Bezal'el graduate who is considered one of the leading contemporary Palestinian artists. At the background, Arabic music blares from speakers hidden so as to intensify the blend of natural landscape and artificial design.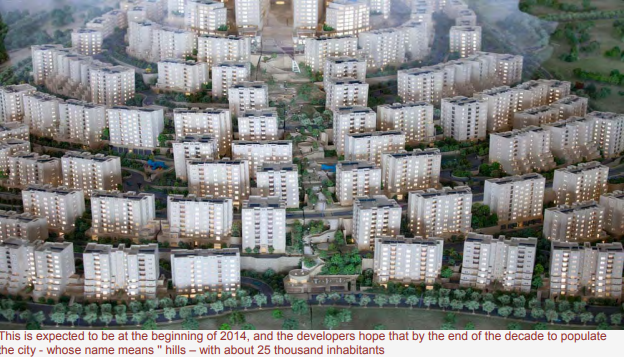 At the upper level, you meet a display in actual size, of multi selection of kitchens and bathrooms and toiletries to choose one for your desirable apartment. During the visit a deliberating, carefully dressed old couple was choosing the doors to the rooms of their prospective apartment.
Visitors Center is an attraction that already draws crowds of visitors. Visitors enter through simulated small scaled "Street" where happy families stare out of their apartment's windows. Further on, visitors cross another simulated Small Street toward the urban center, leading to a small theater where a film is shown in three - dimensions outlining Rawabi utopian life. At the end of the movie the doors are open to a spacious hall, centering a large model of the city and edge positions for marketing. Upstairs, you find actual sized selection of kitchens and bathrooms and toiletries to choose from for your desirable future apartment. During the visit a well dressed deliberating old couple was choosing the doors to the rooms, before leaving to smoke a cigarette on the balcony overlooking the extensive view of the new city and the whole environment.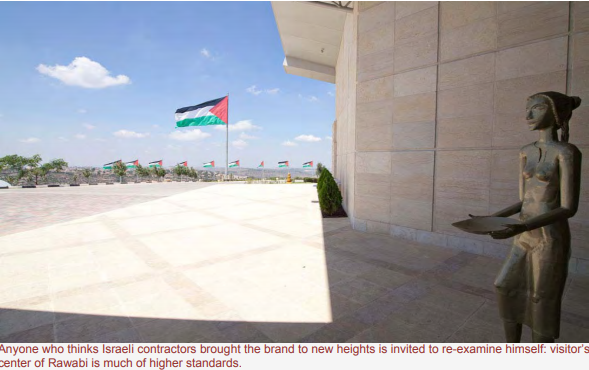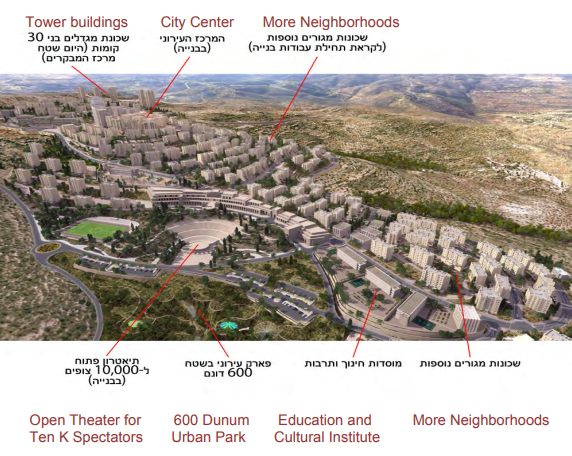 Shalom to Modi'in, but you just arrived to Rawabi
Palestinian Rawabi is reminiscent of Modi'in, and how ironic it is, that Israeli architecture - that is so influenced by Arab school trying to imitate it successfully one way or another - actually influences it back this way. But Modi'in was a government initiative, while Rawabi is a private enterprise: brain child of local entrepreneur Bashar al - Masri (52), born in Nablus and son to one rich Palestinian family, who is involved through Massar International in large building projects worldwide of which some are in Morocco, Jordan and Egypt. His international partner is the Qatari Diar, owned by the Qatari government, a company that operates in dozens of countries, where it recently completed the renovation of the luxury hotel Zurich Schweizerhof center and new residential neighborhood Grosvenor Waterside fringing the river Thames in London.
The resemblance to Modi'in is obvious, but a second look reveals significant differences between the two cities only 16 miles apart from each other. Buildings, infrastructure, target residents (young, educated and of the middle class) and even the landscape are indeed similar, al - Masri, who knows Modi'in well, sees her as a role model, but the American AECOM which is a global provider of professional technical and management support services had a different view of the master plan for the city. Density, for example, is higher among Palestinian partners.
When Modi'in was built, most of the buildings rose to a limited number of floors, but here at Rawabi, they range from 7 to 9 floors. In a future neighborhood, there will rise residential towers of 30 floors, alongside with other neighborhoods of private homes. Modi'in is designed to accommodate private vehicles, while Rawabi planning efforts make it possible to construct on difficult topography, encouraging pedestrian movement: the entire urban center is closed to vehicles.
Al - Masri, who knows Modi'in, sees her as a role model, but the American design company which was trusted with planning the master plan for the city saw a different reality.
In addition, all construction of the first 22 neighborhoods is executed by one construction company only, while architectural planning is achieved by one another firm, according to predefined design principles which preserve the uniformity of level design and implementation (the
master plan of Modi'in was designed by the office of architect Moshe Safdi, who designed only one neighborhood, whereas the rest of the city was planned by dozens of architectural firms and construction companies).
Nor did Modi'in define target residents. In Rawabi, however, they had already begun preliminary planning stage and characterizing potential buyers through focus groups. "With these groups we found out that we need to work with wide open programs. Later, we had to work with marketing people and learn from them about the needs and desires of customers," says city planner, architect Ali Ziadeh.
"We created a design principle which enables us to make future changes as required. This design principle is a living process – available on request, and we still are able to continue or change plans as needed now." For example, until three months ago not one apartment less than 90 square meters was built. Following the big demand for especially small apartments, which came from some potential customers, it was decided to split large apartments in the aim to meet their demand.
Another difference from our Israeli twin: While Modi'in gardens, shopping centers and other municipal services are located in the valleys, in Rawabi many garden pockets are scattered - between the residential neighborhoods, and the Civic Center is located at the top of the main
hill. Locating urban centers on hilltop gives residents a broad view of the landscape, while on the other hand instigating a feeling of suffocation in the valley, which is usually surrounded by dense construction on both banks.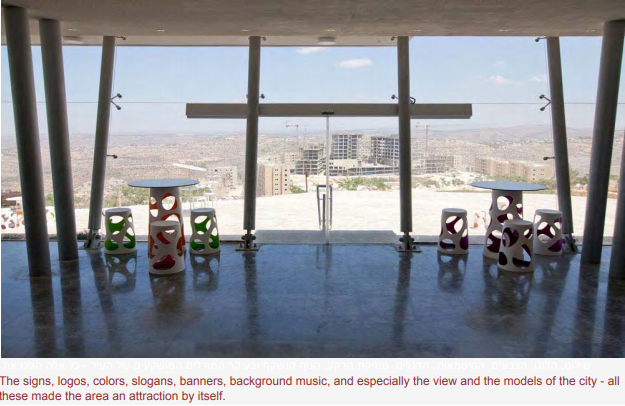 How much an Apartment cost?
Like any other modern city, Rawabi plan is based on separating residential, leisure, employment and industrial areas. In the first stage 22 residential neighborhoods come to existence, where currently the first six are being built: 90 buildings will house more than 5,000 residents. A 90 square meters apartment which includes three bedrooms and two living rooms, cost 54 thousand dollars. A 200 square meter apartment will cost 140 thousand dollars (prices vary depending on the landscape, the size of the balconies and which floor in the building). It includes fully equipped kitchen, toilets and bathrooms, water solar heating system ("Chromagen"), central air-condition ("Tadiran") and one Parking space - unprecedented standards for Palestinian construction culture. To Israeli ears, it sounds like a joke, but not so to the average Palestinian citizen. Marketing people claim Rawabi apartments are cheaper by 20% than in Ramallah which serves the aim to attract buyers to the new city that has not established itself yet. Until recently, no less than 54 principal apartment types with sizes ranging between 90 to 300 sqm have been planned, where purchasers can conduct major internal planning or other changes.
Apartment design reflects changes in Palestinian society tradition: in principle, apartments include two host living rooms, but these rooms are designed in such a way to meet customer's requirements in case he wishes to convert into one bedroom. Rania Mer'i decided to cancel the
duplicate in favor for another bedroom, "because that's the culture of some young couples - they are still traditional, but some are already very modern."
From an administrative aspect, Rawabi also shows innovative vision. The developers intend to strengthen the residents' sense of responsibility and community affinity, so besides the local authority, it was determined that for each neighborhood there will be a local council with broad powers to enable it to keep the neighborhood clean and properly maintained. Each family will be charged municipal property tax or fees, to be split between the municipality and the local council. Another new planning concept is reflected in the distribution of driving plots. Within the Palestinian society it was customary to have rural and urban fence at every lot with a separate gateway for each house unit. Rawabi abolished these settings, and neighborhoods enjoy continuity and open space between the houses.
The city planning and building architect in charge, Ali Ziadeh, head of the engineering firm which bears his name, has about 120 employees. Since his appointment, his office focuses on the planning of Rawabi, divided into three parts: architecture and landscape, management and supervision. The firm operates in Ramallah, but landscape architects work in Rawabi itself "to be close to the site and on top of what is going on." Ziadeh, in his early 50's, a resident of Ramallah, graduated from the Jordan Yarmouk University, to date he has planned only small to medium sized projects. Challenging to deal with such a large project should establish himself at the architectural forefront in the Middle East.
Ziadeh is well familiar with the Israeli planning codes, but despite the design layout and modern purposes, he insists that he relied specifically on local architecture. "The concept is rooted in Islamic architecture, such as Jerusalem divided into quarters. You find such division also in Cairo and Damascus," says Ziadeh. "The division into quarters creates an intimate atmosphere that gives residents confidence, and the opportunity to meet each other and form an organized community."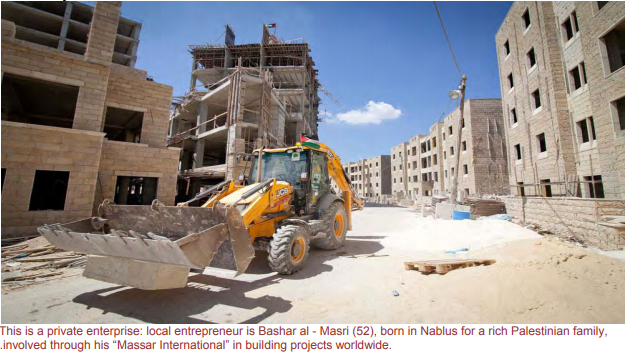 Three movie theaters in the Civic Center
At the top of the hill, the construction work of the city center is underway. Other public buildings are being erected, including three public schools, a mosque for 2,000 worshipers and a church. At the foot of the developed city, a Park area of 600 hectares, with sports facilities and
an amphitheater for 10,000 spectators will be completed within the coming months.
Map of the New City: They learned the lessons of Modi'in
If we go again to the obvious comparison with Modi'in, where its Civic Center includes a Mall complex, based on need alone, Rawabi Civic Center will combine a variety of applications: commercial and office space (planned office tower of 30 floors), residential and hospitality, leisure and cultural facilities. The developers promise to establish a cultural center with a museum, three cinemas (which currently their foundation are under construction and which are expected to be the only ones within the Palestinian Authority area), and a large convergence and events square. Therefore, the urban center of Rawabi is designed not to be as a city center only - with local needs such as groceries, falafel and hummus quiosque, and a pharmacy - but it is expected to be national focal point of the Palestine to be. The inspiration for planning such a commercial center came from two existing ones – Israel and Lebanon: Mamilla of Jerusalem and the (Solider Center) of Beirut, two commercial centers that managed to link between the local design pattern and Global concepts and moreover to suggest urban centers in old cities: relatively narrow commercial streets for pedestrians only, mostly open roofed, combining a variety of designations. Only unlike the compound in Mamilla where only shopping is available, at Rawabi there will also be a cultural and social center.
Architect Ali Ziadeh reveals that the similarity to Mamilla is not coincidental. Bashar al - Masri and he himself visited the site and were influenced by its design, and he used to visit there regularly with his family for shopping. "Mamilla yellow stone came from Bir Zeit, so even the
colors will be very similar to what is observed in Mamilla," he says.
Are there employment opportunities?
Where will Rawabi residents work, besides office work, stores or commuting to jobs in nearby towns as is the case with the residents of Israeli suburbs? At Rawabi's outskirts an industrial area was established with seven factories that are working on creating the new city. Rock quarried from the hill for earthworks, was cut to be used for cladding facades and thus produced other materials for construction. The Company intends to turn these enterprises in the future, to a real industrial area, functioning as a center of Advanced Industry in Palestine - which never actually existed to date.
Will it work?
Rawabi is the product of corporate architecture, an expected product by Israeli eyes, but innovative and even radical for Palestinian eyes. This is the beginning of a social, architectural and cultural experiment, with its influence to be noticed later, and if Jews want to live here - the sky is the limit. Didn't the developers go far and took too much risk? "I think we took a risk," admits architect Ziadeh. "Rawabi adopted many new ideas in real estate. Municipal infrastructure includes central gas system, water and municipal sewage systems, fiber- optic communication - elements that do not exist in other cities, as well as the mysterious barring and prohibiting to hang laundry on balconies or to try to change and replace the building facades.
"And yet he is certain that even if disruption occurs after home owners move in, Rawabi will still lead the real estate market.
From a Planning aspect, Rawabi set unprecedented standards for Palestinian property market with its services level, construction standards, design and lifestyle line up with the living culture of the West. As with social aspect, the city planners hope that the center will become a lively
social center. Neighborhood administrative decentralization should ensure maintenance standards and proper functioning of the new city, and educate the residents to understand that the ownership of the property does not end at the threshold of the apartment building, but continues all over the neighborhood.
And after discussing the internal system of the Palestinians, it will be too hard not to take into account the necessary neighborly relations with the Jewish settlements surrounding the city. How will the old neighbors at "Ateret" accept the new reality? "I do not think they like our presence," says Mir'i. On the other hand, Noam Aaron, Ateret secretary, just say if Arabs want to build a city - let them do, that's great. "On the other hand, he is concerned about the security implications on the settlers, "the regions where Molotov cocktails and stones are thrown at Israeli cars, actually endangering Israelis lives, and then the Arab population centers are not a welcome issue." There are situations that the settlers are used to get them exclusively, favoring the consumption of water resources or only-Jews highways may change now in favor of the Palestinians.
These concerns represent a dissociation between two neighboring communities, lack of coordination and acceptance on the civil level. "99 percent of Arabs are dying to have peace here," says Aaron, "most of them realize that they are living in the best place in the Middle East, but there is one percent that continues to be hazardous, and we are afraid because of this. All the best for Masri being secular, but I do not know which organization may control the city in due course. "
The biggest challenge for Rawabi is how to deal with the residents and leaders who are expected to turn their back to the Palestinians. Rawabi is planned as an alien plantation to its natural surroundings: the natural hill has no trace and the whole new environment is artificial. Entrance to the city particularly pass through the settlements bloc to the south, and bears a western urban look, apartments are tailored and marketed to middle-class to high bourgeois insular communities, which makes a minority of the Palestinian population (West Bank unemployment rate stands at about 17%). No peasants or simple laborers, who make up the majority of the population of the Palestinian Authority domain, will live In Rawabi.
The decision to create a homogenous community looks wrong, all the more so when the town is situated in a saturated environment - stress at home and abroad Planners of Rawabi can only hope that there would not be another tragic incident like what happened here to another corporate venture, the Oasis Casino in Jericho and the adjacent hotel. During that crisis, the outbreak of the second intifada a decade ago, we witnessed the scene of battles which destroyed both of them almost to the ground.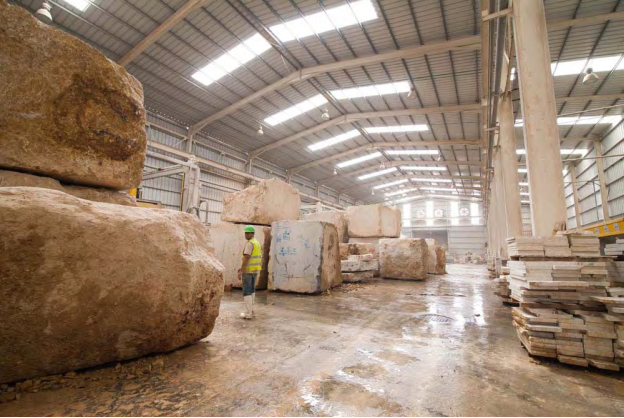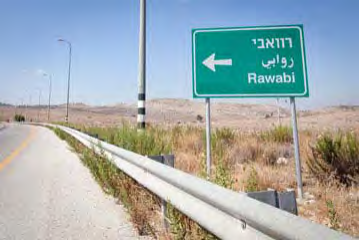 To view original article, Click Here.