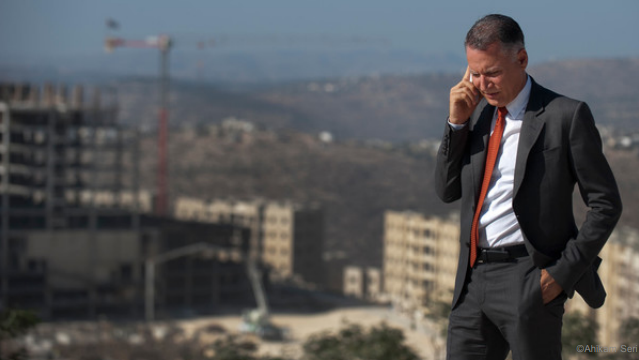 Financial Times - John Reed - Bashar Masri has a proposal for rich – and even modestly wealthy – Palestinians living in exile, away from the sorrows and risks of the conflict with Israel: come home right away, and bring money. "My request of all Palestinians who have assets of more than $500,000 is that they invest here," he says. "If 50 per cent of them come to Palestine with 5 per cent of their money, that would be tens of billions of dollars."
Masri, a slim, slight 51-year-old, is speaking to me at his site office at Rawabi, a vast planned Palestinian city of Herculean – or, say critics, Ozymandian – character rising on vast stone terraces carved out of a West Bank hilltop. Bayti ("My Home"), Masri's property company, won backing from the Qatari sovereign wealth fund's real estate arm for the $1bn project, which will house 25,000 people when complete and which the developer describes as the largest private-sector undertaking in Palestinian economic history.
When I first visited Rawabi in March, the entrance was a precarious gravel track; now there is a well-signposted paved road. In the centre of one is a monument featuring a meteoritetype stone piercing the earth, from which water and plants rise, symbolising the new life pulled from the unpromising soil of the Israeli-occupied West Bank.
From the slick 3D film at Rawabi's visitors' centre to its neat high-rises built from honeycoloured stone, the planned city is promising middle-class Palestinians a quiet, normal life under their own roof. Below Masri's site office, three schools are rising; higher, a spacious municipal plaza inspired by Beirut's is being built.
But Masri, I discover, has taken considerable grief from his fellow Palestinians for Rawabi.
Some accuse him of profiteering by building expensive bourgeois palaces. Activists in the Boycott, Divestment, Sanctions (BDS) movement that advocates Israel's total economic isolation have accused him of "normalisation", a grievous charge, because of his occasional dealings with Israeli businessmen and institutions.
Masri was criticised for taking some of the inspiration for Rawabi from Modi'in, a new Israeli town on the Green Line abutting a West Bank Jewish settlement. Notwithstanding Masri's design injunctions to ensure Rawabi's dwellings do not look like settler houses, many Palestinians think he failed in this.
He was castigated for accepting trees from the Jewish National Fund, a Zionist group activists say is using forestation projects to displace Palestinian Bedouins further south in the Negev. "It was a major mistake," he says, but adds: "You cannot do business without Israel.
All the people who are anti-normalisation are normalisers themselves: the cement comes through Israel; the electricity is all Israeli. Who decides what comes from Israel?" The criticism clearly hurts Masri, who, like quite a few other Palestinians his age, spent his teenage years in and out of Israeli administrative detention for his political activities before heading to the US, where his physician father lived, to study at Virginia Tech. Nor is the political flak necessarily the project's biggest problem. Masri has also fought Israeli officials, so far in vain, to obtain planning permission for a bigger road into Rawabi. The Israeli sign-off is needed as the proposed road runs through Area C, the part of the West Bank under direct Israeli control. Nor has Israel yet agreed to supply water to the project. Because it is in short supply, construction is being delayed and flats may not be ready for its first 600 residents on schedule early next year.
Because of the financial crisis in the Palestinian Authority (PA), the West Bank's biggest employer, Rawabi has had to cut prices for its flats. The lower income, added to the project's other delays, means a business plan designed to be solidly profitable will barely break even.
In this context, Masri says, claims that he is a profiteering capitalist are risible. "If trends continue this way, it will be a losing project," he says.
Masri's struggles come at a pivotal time as Israelis and Palestinians sit down for renewed peace negotiations. In parallel with the talks, US secretary of state John Kerry has enlisted Tony Blair, the Middle East Quartet's representative in Jerusalem, to draw up a $4bn economic plan for the West Bank and Gaza Strip that would see many more grand projects like Rawabi built with private-sector backing, from sewage treatment plants to tourist infrastructure and shopping malls. If peace does draw closer, rich Palestinians like Masri will play a leading role.
But the controversy surrounding money and wealth in Palestine, which goes well beyond Masri and Rawabi, will not go away. Many ordinary Palestinians persist in seeing the rich as opportunistic, self-serving and corrupt: coddled figures feeding off the monopoly rents offered by the occupation and the political dominance of the PA.
Masri is dismissive, even angry at the critics' claims. "It is nasty to criticise the few Palestinians who came in and risked their money to create jobs in Palestine, to criticise them as monopolisers," he says in even but firm tones. "We should encourage them to come in and invest."
The first thing to know about rich Palestinians is that the ones you may have heard of – businessmen like Masri active in the West Bank – are a small minority. Most live in the diaspora and keep lower media profiles – some in Jordan or the Gulf and others much further away, including the US and Chile. Consolidated Contractors Company, a global construction firm founded by an exile from the Galilee town of Safed and thought to be the biggest Palestinian-owned company, is headquartered in Athens.
Some of the exiles returned home in the early 1990s after the signing of the Oslo agreement, when Yassir Arafat's Palestine Liberation Organisation returned from exile and formed the PA's state apparatus, still waiting for a state two decades later in Ramallah.
Masri was one of these. He founded his company Massar ("path" in Arabic) in 1994 – its interests include real estate, financial services and consulting – and founded Al-Ayyam, a daily newspaper, which today is the second-largest in Palestine. "I had thought I was one of thousands of Palestinans who were coming back for business," he says. "After a year it sunk in I was one of fewer than 100 who did. To me that was shocking and still is."
The exiles who returned did so largely via conglomerates created to concentrate Palestinian economic influence and develop the country, notably Padico – chaired by Masri's cousin Munib, the group's largest shareholder – and the Arab Palestinian Investment Company.
Arafat even spoke approvingly of the role that could be played by a "patriotic" capitalist class.
Probably the best known returnee was Munib Masri, who lives in a vast mansion above Nablus. He styles himself as a powerbroker in business and politics, and played an important role in securing the appointment of the PA's current prime minister, Rami Hamdallah, a fellow nabulsi. (A third Masri cousin, Sabih, chairman of the Paltel telecoms group and Arab Bank, keeps a lower media profile but is thought to be the richest Palestinian of all.)
Until recently, the rich returnees were given a fairly smooth ride by Palestinian public opinion because popular resentment on the street focused mainly on the Israeli occupiers or the corruption-prone PA. But over the past year, the same eat-the-rich spirit animating Occupy Wall Street and the backlash against tycoons in Israel has reverberated against the wealthy in the West Bank too. "There is an anti-private-sector feeling," says Kamel Husseini, who runs a Ramallah public relations firm and belongs to East Jerusalem's best-known landowning family. "People want more social investments and jobs."
The harshest critics accuse the rich of effectively profiting from the occupation, claiming they benefit from the PA's good graces or do business with Israeli companies that are deeply embedded in the Palestinian economy via local distributors. They reject claims made by those such as the Masri cousins that they are patriots building the infrastructure of a new country, and describe economic self-reliance as a myth in a territory where Israel controls everything from radio frequencies to the movement of people and power and water supplies.
"The Palestinian private sector has been given a free ride, and that hasn't been good for the Palestinian consumer, whether it's in pricing, the variety of products or possibilities for local substitutions for Israeli products," says Sam Bahour, a Ramallah-based consultant and sharp critic of the West Bank's economic status quo.
A recent documentary on Munib Masri by television channel France24 would seem to confirm the sceptical view. In the film, called The Godfather of Nablus, Munib Masri complains about "the occupation" from the back seat of a limousine when Israeli soldiers stop him at a checkpoint. Later, he is seen dropping in unannounced on the mayor of Nablus in the middle of a meeting and patting him on the cheek. He also meets an unnamed Israeli businessman north of Tel Aviv.
The last meeting, it would later emerge, was part of Breaking the Impasse, a joint initiative by top Palestinian and Israeli businessmen, including Munib Masri, aimed at prodding the region's leaders to forge peace. The initiative was announced with great pomp at the World Economic Forum conference in May in Jordan. There, with Kerry and Blair, Israeli president Shimon Peres and PA president Mahmoud Abbas listening, Munib took the stage with Yossi Vardi, an Israeli high-tech entrepreneur.
"Enough is enough!" Vardi all but shouted at hundreds of participants at the conference.
"They called us a silent majority," Munib Masri said less loudly but with equal emphasis.
"We are not going to be silent any more."
Speaking to me beforehand, Munib Masri took pains to say the initiative, whose members met Israeli prime minister Benjamin Netanyahu, was not "normalisation" with Israel, nor meant to replace the peace process. Just as business played a role in South Africa's final apartheid years in leading the change of regime, he said, Palestinian and Israeli businesspeople could do the same now. But back in Ramallah, Breaking the Impasse was panned by the Palestinian commentariat, where many critics conflated it with the Blair/Kerry plan, which they said could not work under conditions of occupation.
"The Kerry plan is smoke and mirrors to get people back to the negotiating table," says Bahour. "We don't have the capacity to absorb $4bn of investment – that's more than half of the gross domestic product, and it's a black box."
Bashar Masri says he meant well but others say he miscalculated in some ways, including by meeting Rami Levy, an Israeli supermarket magnate with extensive operations in the West Bank, which brought condemnation from the BDS crowd. "Munib has made a major contribution to the Palestinian economy," he says, pointing out the toll the occupation has taken on his cousin: one of Munib Masri's sons, then a student at the American University of Beirut, was severely injured in 2011 by an Israeli bullet near the border in southern Lebanon.
The noise around rich Palestinians will only intensify in coming months as peace talks progress and Blair lines up projects for his $4bn plan from which Palestine's wealthy stand to profit: big-ticket power generation, retail and tourism projects are rumoured. As this happens, the West Bank's top 1 per cent have at minimum some public relations work to do vis a vis the other 99 per cent.
Back at Rawabi, Bashar Masri is chewing over the criticism that has been thrown around. It is not the role of the private sector to lead poverty-fighting among Palestinians, he says – leave that to government or the non-governmental organisations to which he donates when he makes money. "Today, even if I am building palaces, I [have] created 6,000 jobs that are badly needed," he says, gesturing to the vast, unfolding building site outside.
As Palestinians put down their deposits on Rawabi flats, he adds, the city is taking on a life of its own. "Rawabi is now becoming the Rawabi of the people, not the Rawabi of Bashar Masri," he says. "We now have 600 new owners – they are Rawabians. Over the next year you will see a change from the city of rich people to a city of the people who live in it."
To view original article, Click Here.