Birth of a Palestinian City Is Punctuated by Struggles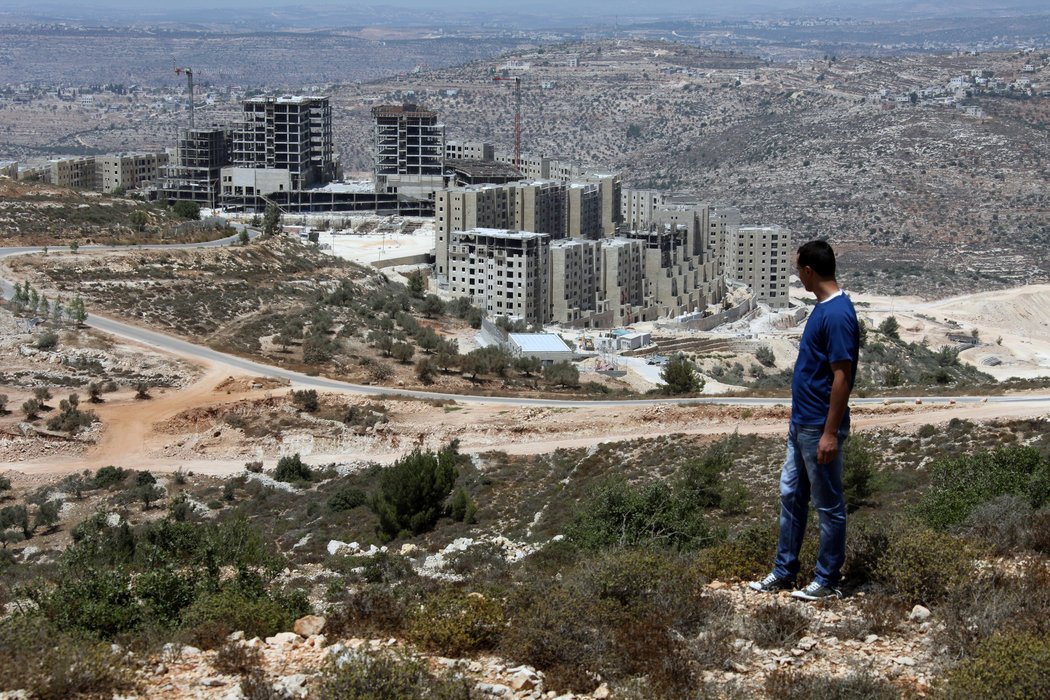 Rawabi under construction in the West Bank
THE NEW YORK TIMES - ISABEL KERSHNER - RAWABI, West Bank — Two students came up with Rawabi, the Arabic word for hills, in a competition to name this new Palestinian city, the first to have been planned from the ground up. The developers rejected suggestions — like Arafat City and Jihad City — that evoked a more chaotic past.
"The new generation is building this city," said Bashar Masri, 52, the Palestinian businessman who has headed this ambitious project and says he will be moving into a duplex penthouse in the town center once it is completed.
"Every Palestinian has a duty to participate in nation building," he told reporters on a tour of the site last week.
Halfway between Jerusalem and Nablus, Rawabi is a short commute from Ramallah, the Palestinian Authority's bustling administrative capital in the West Bank.
Palestinian flags fluttered from the tractors and cranes, and a huge one flew outside the tasteful sales office, a symbol that was clearly visible from Ateret, a Jewish settlement of 100 families on a nearby hilltop.
But like a microcosm of the Palestinian state in the making, the building of Rawabi is a continual struggle. Its future growth depends on a precarious political environment and the cooperation of Israel. Because of Rawabi's location, Mr. Masri says, he and his colleagues spend about 70 percent of their time on issues like water and obtaining permits. Promised funds from the Palestinian Authority never materialized, posing an additional challenge.
The sales team began marketing apartments here a few months ago, aiming at middle- to upper-middle-class Palestinian buyers. The developers say the first phase of more than 600 apartments has already sold out and will be ready for occupancy early next year. The master plan comprises 6,000 apartments and ultimately up to 40,000 people.
The buildings, faced in locally quarried stone with features like archways, are organized along quiet cul-de-sacs in orderly neighborhoods to be linked by green walkways and outer ring roads. The slopes offer views of the surrounding countryside. In addition to offices, plans for the city center include shopping arcades, cafes, restaurants, movie theaters and a convention center built around a central piazza.
The political ambiguity of the area has, however, caused endless complications. Amir Dajani, deputy managing director of the Bayti Real Estate Investment Company, which is building the city, said the company had spent $80 million to $100 million a year in Israel on know-how and materials like cement, which he called "a true example of an economy for peace." But there is no airport or port in the Palestinian Authority territories, meaning that all imports have to come by way of Israel.
"We still have to deal with the Israeli occupation," Mr. Dajani said, referring to the division of the West Bank into different areas of authority under the overall rule of the Israeli military.
Although the project was announced in 2007 and construction began two years ago, it took until June 2012 to secure a temporary permit from Israel, renewable annually, for a narrow, winding access road to the site. That is because a mile-long segment of the road passes through a part of the West Bank that remains under full Israeli control.
There have also been problems with water, which Israel provides through the Palestinian Water Authority. The developers say that the current water supply is insufficient and that they are working feverishly to ensure adequate water by the time residents move in.
Israeli security officials said that part of the problem was that the developers wanted to transfer water through territory under full Israeli control rather than that of the Palestinian Authority and that discussions were under way to resolve the issue.
The project has also come under attack from the Palestinian Boycott, Divestment and Sanctions National Committee, which opposes any normal ties with Israel. The committee has accused Mr. Masri of promoting his private interests at the expense of Palestinian rights and of whitewashing the Israeli occupation.
The developers say they prefer to use Palestinian products wherever possible.
But the whole venture comes with high risk. If the environment changes for the better, the developers say, Rawabi may serve as a model for future entrepreneurs. If not, they may have to downsize.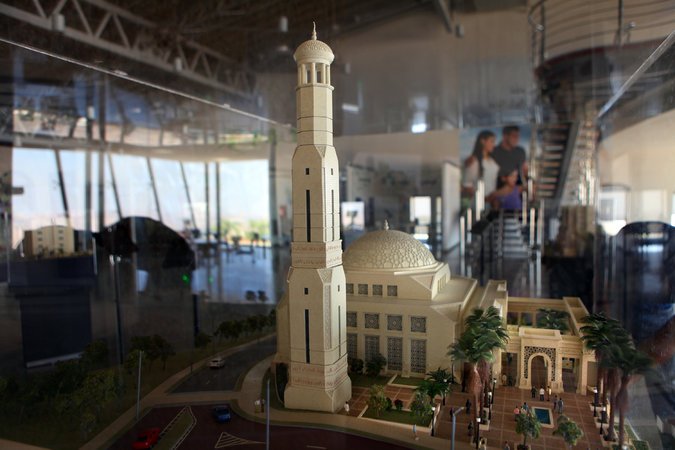 A model of the city's mosque
The vision was not only to provide affordable housing but also to create thousands of jobs in construction and in the city's business district. Rawabi is hoping to attract international technology and communications companies to set up outsourcing and research-and-development hubs in the city.
An additional objective was to create geographic contiguity among the Palestinian cities — in Israeli-settler parlance, to establish a fact on the ground.
But Mr. Masri, the founder, said his idea was conceived as a commercial venture and not an altruistic one. Bitter at turns, he said that at this point it was not clear when or if the company would break even.
Mr. Masri, who lived in the United States for 25 years, has learned to adapt to adverse circumstances. During the anarchic years of the second intifada, or uprising, his local service companies were failing, so in 2004 he decided to diversify and did well building low- and middle-income housing in Morocco.
When he embarked on the Rawabi project, he said, he soon found that he was in over his head financially. A company owned by the Qatari government agreed to put in two-thirds of the Rawabi budget, now said to be in excess of $1 billion.
The project has attracted almost no international financing despite the billions of dollars that donor nations have given to the Palestinian Authority.
Four years ago the Palestinian Authority agreed to pay for the building of schools, a police station and some other public amenities in Rawabi at a cost of $150 million. None of that money materialized; Bayti Real Estate had to foot those bills as well.
Mr. Masri said he was disappointed that the authority had not set Rawabi as a priority.
"Today we have the full support of our government, but now they are broke," he added.
Apartment prices range from about $60,000 to $200,000 and are said to be 15 percent to 20 percent lower than market prices in Ramallah.
Adel and Amal Kaabi and their four children are moving into a new three-bedroom apartment here next year.
Asked why they chose Rawabi, Mr. Kaabi, 47, the manager of a branch of an insurance company in Ramallah, said, "There will be a system working here, public amenities and no chaos."
The managers say that the buyers are mostly professionals who are educated and Internet-savvy. The majority are two-income families who work in the private sector. The average household head is nearly 42 years old; of the 7 percent of buyers who are single professionals, most are women. Eleven percent of the buyers are Christians, a higher proportion than in general Palestinian society where Christians make up 2 percent or less of the population.
There are plans for a Greek Orthodox church as well as a domed central mosque.
In the sales pitch, which includes a 3-D movie, the promoters of Rawabi present it as offering both a liberal lifestyle and an authentic Palestinian environment.
While promotional videos show men in suits on cellphones and women with flowing hair and figure-hugging clothes, they also feature men smoking water pipes, women with Islamic head scarves and a troupe performing the dabka, an Arab folk dance.
When he was a child in Nablus, Mr. Masri said, displaying a Palestinian flag was enough to get someone shot or carted off to an Israeli prison. Now, he said, he has no doubt that the state is coming.
"The question now is, will I see the Palestinian state?" he said. "Or my children?"
To view original article, Click Here.