New Palestinian City Caught in Land Spat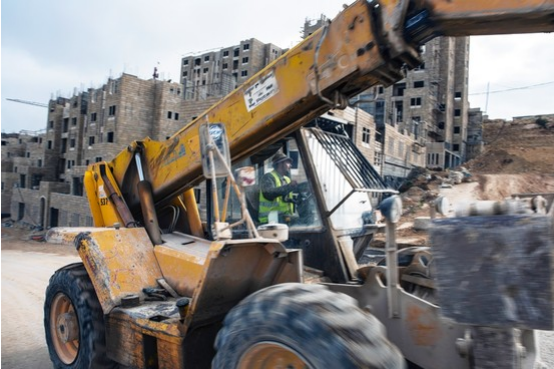 The Wall Street Journal - JOSHUA MITNICK - Construction in Rawabi this month; the first residents are expected to move into the city within a year.
RAWABI, West Bank—A project to build what would be the first modern Palestinian city here has stumbled over an issue that has become an enduring obstacle to efforts to boost the territory's economy: access to Israeli-controlled lands that surround it.
Cranes with Palestinian flags mark the massive construction site at Rawabi, 5½ miles north of Ramallah, where truck drivers navigate rows of midrise buildings and prospective homeowners use iPads to select apartments. Some 3,000 people are at work on the city, and the first residents are expected to move in within a year. Rawabi, on a hilltop with a view to the Mediterranean, is slated to have a population of 40,000, its own schools, shopping mall, mosques and an office complex.
But developers said the city, which investors say will cost $1 billion to build, is in jeopardy because of Israel's refusal to authorize a permanent access road for construction crews and residents to cross to Rawabi through Israeli-held territory.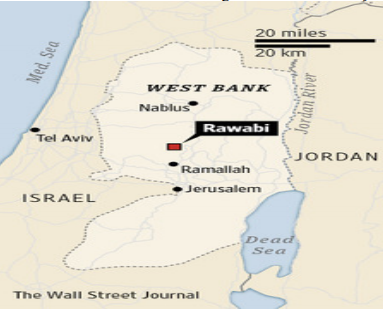 Investors want Israel to allow construction of the permanent road, and to let the Palestinians control it. Israel's government, under pressure from Jewish settlers on surrounding land, has demurred.
The impasse highlights one of the challenges facing Secretary of State John Kerry as the U.S. weighs an initiative to boost the sagging Palestinian economy to help restart peace negotiations: getting Israel to relinquish control over West Bank lands to allow for Palestinian economic expansion.
"It's stuck in politics,'' said Bashar Masri, the Palestinian entrepreneur whose investment firm, Masar International, is backing Rawabi along with Qatari Diar, the real-estate arm of Qatar's sovereign-wealth fund. "If we slow down, we'll lose most of those jobs. If we get access approval, we can add 3,000 jobs."
Israel considers the temporary access road currently in use sufficient for now, said an Israeli official. "Israel has taken steps to support the Palestinian economy, but transferring land to Palestinian control is a political issue," the official said. "I assume that when we see progress
[on peace talks] we will see movement on the building of the road to Rawabi as well."
In recent years, Israel loosened the reins on the Palestinian economy by removing military checkpoints and giving Palestinians more permits to work in Israel.
Now the U.S. is focusing on helping Palestinians find a way to push ahead with building projects, many of which are still on paper because they are slated for West Bank territory off limits to Palestinians, said a Western official familiar with the diplomacy. Mr. Kerry said at the end of a visit to the region on April 9 that he wanted to "move rapidly toward increased business expansion" in the West Bank.
Allowing Palestinians to develop lands under Israeli control would enable the expansion of agriculture, telecommunications and energy networks and the development of new tourist attractions, the World Bank said in a 2012 report.
In the 1990s, Israel and the Palestinians divided the West Bank into three zones: Areas A and B were Palestinian cities and villages, where they were granted self-rule. Area C comprised Jewish settlements and their access roads, military bases and all open lands, which Israel held as a security buffer and as bargaining chips in negotiations. Israel maintains full control over 60% of West Bank land.
"If you are going to jump-start the Palestinian economy, the place to do it is Area C," said a Western diplomat. "It's the largest area of contiguous land."
The World Bank warned in September, in a report on the importance of economic development in Area C, that uncertainty over access to Rawabi could deter future investment in large projects in the West Bank.
Rawabi has attracted a stream of foreign dignitaries because it is seen by the international community as a flagship project of a future Palestinian state.
To reach the site today, cement mixers and trucks traverse a shoulderless two-lane road that curves through an olive grove. The road is temporary and the permit for it needs to be renewed every several months, said Mr. Masri. The Palestinians want their own road linking Rawabi with Ramallah.
Rania Maree, a spokeswoman for Rawabi, said investors are moving ahead despite frozen peace talks. "We can't wait for the peace process to be done, because apparently it isn't going to happen anytime soon."
Turning over West Bank land would be a politically sensitive concession for the government of Israeli Prime Minister Benjamin Netanyahu. Jewish settlers—a key constituency of Israel's right-leaning government—consider widened Palestinian presence a security threat.
It seems the government has little leeway. The Israeli army needs to control about 50% of West Bank land to protect road networks between the dozens of settlements scattered across the West Bank, said Shaul Arieli, a former Israeli colonel and former adviser to Israeli governments on peace negotiations. But the West Bank's 163 Palestinian cantons must be linked together for a Palestinian state to function, Mr. Arieli said.
The Israel government is discussing Rawabi as well as other Area C access issues with the U.S., according to an Israeli defense official with knowledge of talks regarding access to Area C. The official suggested that if Palestinians dropped conditions for returning to peace talks, Israel would be willing to give more access to Area C.
But trust is low. The Palestinians, for now, haven't dropped preconditions because they suspect Israel will keep building settlements while stalling on peace compromises, said an official close to the negotiations.
And the Palestinians suspect Israel will only allow economic aid that they can control, stopping well short of enabling a sovereign Palestinian economy, the Palestinian official said.
At a sleek showroom that looks out to the Tel Aviv skyline and the Mediterranean, Palestinians walk through neighborhood models and computerized illustrations of a high-end shopping center, an amphitheater, and a belt of tiny parks linking the city's 21 neighborhoods.
More than half the 700 apartments in the first phase have been reserved, the developers said.
"This is a Palestinian city with a modern twist," said Ms. Maree. "We need to build five or six cities like this."
To view original article, Click Here.