Businessman's dream city nears completion
DW - Rawabi is the first modern Palestinian city that has been developed on the drawing board. It's the brainchild of a billionaire who sees this city as the first step towards a future independent Palestinian state.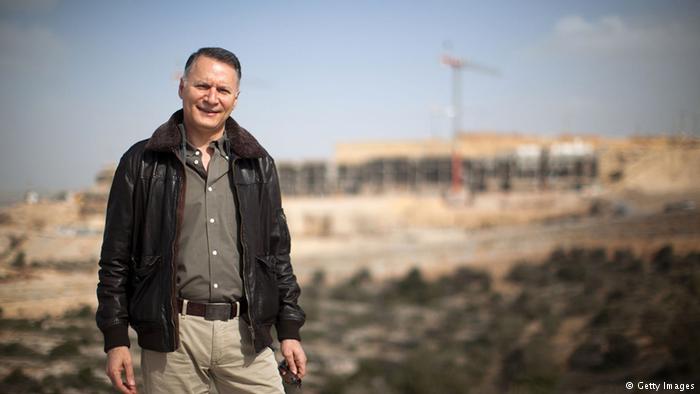 Rania Mari pulls into the street that almost ruined it all. A simple road just under three kilometers (two miles) long, it's the bottleneck through which both materials and machinery for the Rawabi construction project are being transported. This street partly runs through Israeli territory - more than half of the West Bank is part of Israel's Area C, the regions belonging to or adjoining Israeli settlements.
"It took us so much time to get a permit from the Israelis," Mari explains. "Now we have a permit which needs to be renewed annually."
The 28-year-old from Ramallah in the West Bank is responsible for promoting the planned city of Rawabi. In just a couple of years, up to 40,000 people are supposed to live here. Schools, medical clinics, theaters, hotels, as well as a mosque and a church, are planned. Rawabi is also set to be run by its own elected administration.
A $1 billion investment
Rawabi translates to "the hills" and the city will be erected on a hill close to Ramallah. The planned city is the brainchild of Bashar Masri (pictured above), a 52-year-old business man from Nablus, a city in the north of the West Bank. Masri who studied in the US founded the organization 'Massar International' in 1994. Today, his empire consists of 15 subsidiaries.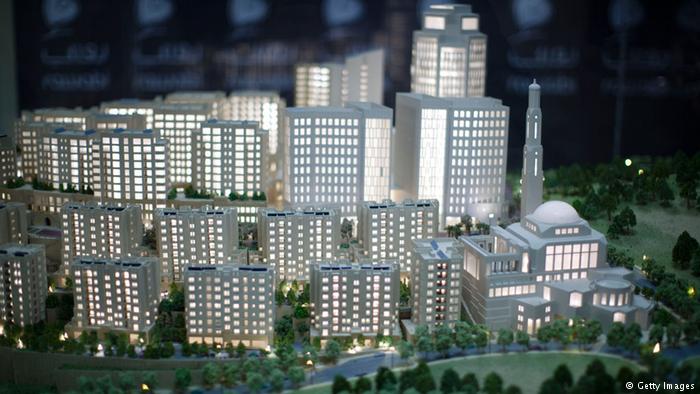 A scale model of Rawabi in the developer's office shows the new planned city of the future
He has set out to build the first modern Palestinian city. But he can't do it alone. In order to fulfil his dream, he needs funds from Qatar: The emirate is paying two thirds of the investment sum of $1 billion (760,000 euros) while Masri and other investors take care of the rest.
But the city of Rawabi is much more than just a business project for Masri. It's an important step towards a future independent Palestinian state, he says. He aims for a modern state of Palestine with simple sandstone facades, flowerbeds and green grass, without satellite dishes covering the windows and trash lying around.
Attracting the Palestinian middle class
After construction began in 2010, the first residents are now expected to move in to Rawabi at the end of this year. In the developers showroom shiny kitchen and bathroom models are on display, as well as floor tiles, faucets and doors.
A family from Ramallah has just decided on a green-tiled bathroom. The married couple - she in a hijab, he wearing jeans and T-Shirt - represents Rawabi's main target group. They are middle class, educated, single or married with children.
"The price for these apartments is reasonable because of the high standard they provide," the husband said. In Ramallah for the same price he would only get a small apartment, probably in need of renovation, where his kids wouldn't have enough room to play.
The apartments in Rawabi range in size from 124 to 230 square meters (1,300 to 2,480 square feet). For a 180 square meter apartment, buyers can expect to pay $110,000 (84,000 euros).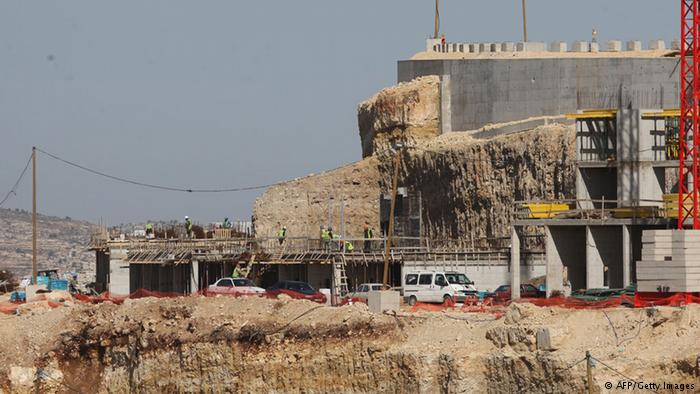 Blocks of flats in Rawabi: the first residents are expected to move in at the end of the year
Mari steers her jeep over the dirt road that's supposed to be turned into Rawabi's city center soon. To her left and right, multi-story buildings are currently being built. These buildings are also clearly visible in Ateret, an Israeli settlement to the south of the new city. Ateret residents say the city of Rawabi is a deliberate provocation.
"We had quite a lot of trouble with them," Mari said. Initially, when only few construction workers were on site, "settlers from Ateret used to come at night and attack people here, or even in the daytime." Now, the number of attacks has declined as construction has picked up.
New jobs, new chances
The Rawabi project employs some 5,000 people - many women take on higher positions. Hanan Khalaf, a recent construction engineer graduate, has just left the marketing office. She's one of many young people who are involved in the project. The 23-year-old who studied at the Birzeit University in Ramallah says she's learning a lot.
"I feel that I work in an atmosphere that is very professional, which we somehow lack in Palestine," she said.
She enjoys constant changes to her work routine, because she gets to do different things. "Today I am in an office, tomorrow I will be on site and the day after that I will be in the marketing team. For someone who has just graduated, this diversity helps build up new skills."
Hanan Khalaf, (Photo: Ulrike Schleicher, Westbank, April 2013)
Young, well-educated Palestinians are the target demographic for the new project
Project head Amir Dajani sits in his office signing papers. He says he has to be brief, as co-ordinating this now symbolic project takes up his time.
"There is an acute shortage of affordable housing for the Palestinian middle class," he said. He adds that the project should also create permanent new jobs, beyond the city's construction sector.
Just outside his window, Dajani can oversee how construction is moving forward. Despite the difficulties due to Israel's settlement, people here are optimistic, he says.
"We don't call it a problem anymore, we say it's a challenge."
To view original article, Click Here.