Building Rawabi: From Renderings to Construction
Zum Blog - Michael Semmen - After almost a decade of planning, Rawabi, the first Palestinian planned community on the West Bank, has officially begun its transformation from the development stage to the implementation stage.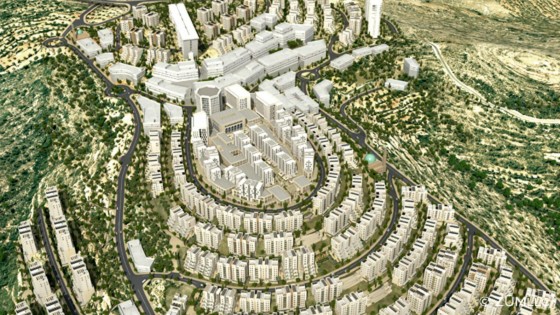 And Zum was a part of the project from the beginning.
We first began work on the project in 2006 when we were approached by AECOM, a global architecture and engineering firm, to work on renderings of the city that would be used to showcase the project to investors, potential residents, and journalists. As we created renderings, we collaborated with a variety of companies on the project, including Bayti Real Estate Investment Company, Qatari Diar Real Estate Investment Company and Massar International.
ZUM was charged with creating a 3D site that not only showed the city of Rawabi, but also the surrounding area, which gave the backers of the project their first real view of the city as a whole.
The plan for Rawabi included 5,000 housing units with a central commercial area featuring shops, banks, and restaurants. Once the project is completed, more than 40,000 residents will be able to live within the city.
As Bashar al-Masri, the developer of the project, told French newspaper La Tribune, that he has never wavered from his initial goal to create a new and affordable community for Palestinians and their families. "My goal is to create a sustainable and self-sufficient city, which is why we plan to attract business to create jobs."
He says that currently, the first two neighborhoods in the community are almost finished, and construction has begun on the city center, cafes and offices. "Several high-tech companies, telelcommunication centers, and banks have already booked their business spaces," al-Masri told La Tribune. al-Masri says that 1,500 jobs will be created this year, with 5,000 more jobs expected in the next three years.
Despite the construction, there are still some major roadblocks that al-Masri and his team must conquer before the city is fully functioning, namely water and access. In a report for NBC News, correspondent Martin Fletcher noted that all the water to the city has to be piped in, and there is currently no obvious source. There's also only one road leading to Rawabi, which passes through a part of the West Bank that is controlled by Israel. Palestinians can only use it with an Israeli permit, which must be renewed every year Needless to say, it's an interesting project, and one that we were thrilled to have the opportunity to work on. Our renderings are still being used today to show the city's potential, and it's a project that we're particularly proud to have worked on.
To view original article, Click Here.