Visit to Rawabi Demonstrates Future Job Possibilities
Beithlahem University - On visit to Rawabi, Br. Peter Bray reflects on a possible future employer to BU graduates

Brother Peter Bray, Vice Chancellor of Bethlehem University, paid a visit to Rawabi, the first Palestinian planned city near Ramallah, in the northwestern part of the West Bank. Br. Peter and the Vice President for Financial Affairs at Bethlehem University, Mr. Youil Anastas, were welcomed by Mr. Bashar Masri, the chairman of Massar International and the visionary and catalyst behind Rawabi, and Ms. Nisreen Shahin, the executive director of Rawabi Foundation.
In the course of the visit, Brother Peter admired the work done to develop such a huge project.
"Apart from the beautiful site and the way it is being developed, this is a wonderful project with major implications for the growth of Palestine."
Built on total area of 6,300,000 squared meters, Rawabi is a new city for Palestinian families. It will provide opportunities for affordable home ownership, employment, education, and leisure and an attractive environment in which to live, work, and grow.
The visit included a tour in the show room which has a prototype of Rawabi. The city, which includes 5000 housing units with nearly 25 thousand inhabitants in the first stage, is ultimately expected to become home to a population of 40 thousand people.
At the Amphitheater - RawabiAfter watching a short film about the city, Ms. Shahin gave a detailed presentation about the housing capacities in addition to the economic impact Rawabi is expected to have by creating 3000-5000 permanent jobs.
Bethlehem University is committed to serving the Palestinian community, and the Vice Chancellor reflected on the various opportunities that could become available to cooperate.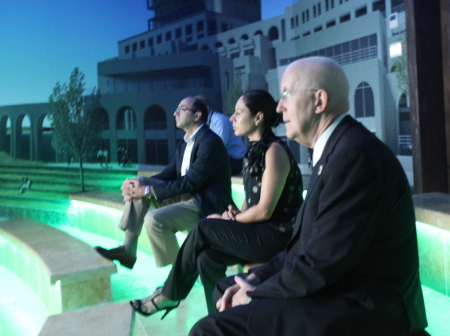 "With its commitment to help build this nation, Bethlehem University is certainly interested in exploring ways of contributing to making Rawabi a vital center in Palestine," Br. Peter said. As an Institution that provides quality higher education, Bethlehem University can be a possible provider of highly skilled candidates for jobs at Rawabi.
In addition to worship places, the city will also include police station, fire-fighting station, public and private schools, a public park to be built on 135,000 square meters, and the biggest amphitheater which accommodates 20,000 people.
Mr. Masri mentioned that there were opportunities for cooperation. "Rawabi is interested in people with management and technical skills and is particularly interested in working with universities to help students develop such skills that are able to be used rather than talked about."
To view original article, Click Here.